Bottom Line
48North (TSXV: NRTH; OTCMKTS: NCNNF) is not unique with a disappointing outdoor harvest in 2019.
Multiple industry players are also harvesting far less than they originally planned, telling us the 2019 harvest was a learning year more than anything else.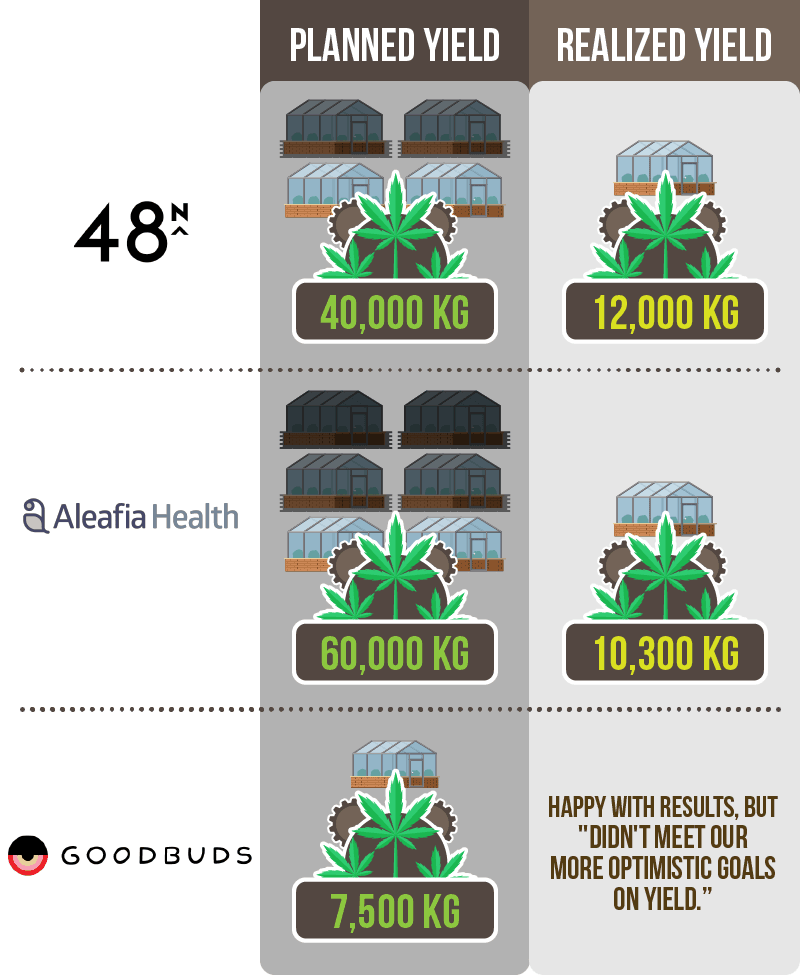 Investors should learn two things from the 2019 harvest results
Always assume the outdoor yield will be lower than what management expects. Outdoor introduces many variables that make growing more of a challenge, not to mention its management's job is to sell you a positive story so you buy their stock.
Companies are not giving up, and have big plans for the 2020 harvest with at least 350,000 kg of cannabis scheduled to be planted based on our tally. Outdoor could become the investment theme in 2020.
Outdoor cannabis is here to stay and will only become a larger percentage of supply in the years to come due to a superior cost advantage over growing indoors.
Outdoor Cannabis Much Cheaper to Grow
The growth in the outdoor harvest will have far-reaching implications for prices and the viability of indoor and hybrid greenhouses built in the last few years.
The outdoor cannabis story is just beginning and we think investors can potentially generate some big gains by owning the stocks of outdoor growers with ample cash and a route to put their flower on store shelves in 2020.
48 North Proves Outdoor Cannabis Is Not Just for Extraction
Almost more important than a disappointing harvest was the news that 48North will sell the outdoor harvest as is and not for trim to be made into cannabis concentrates.
Outdoor flower making its way onto retail shelves was always the final outcome in our opinion, but many other self-interested industry players said it would never happen.
When 48North first announced their outdoor license the chatter was mainly "This low-quality supply is only fit for vape pens or brownies and will never be sold as flower".
The reality is that consumers will have the last word and will vote with their wallets.
If there is a place on store shelves for outdoor flower, the industry will provide it regardless of industry infighting about "quality".
As we would expect given the cost advantage, 48North plans to price their outdoor brand Trail Mix below most other grams on the market.
Investors should watch closely for news that outdoor flower is a hit with consumers because if it is, retail prices are headed lower.
The oversupply of flower is already here in Canada and outdoor supply will only speed up the price declines we expect to see over the next 6-12 months.
More Details About the Harvest
48North Cannabis Corp. today released its fiscal Q1 2020 financials covering the period ending Sept. 30 as the company ramps up outdoor grow operations and prepares for the launch of cannabis 2.0 products.
Those quarterly numbers were notable both for the overall low cost to produce, and for a significantly lower than expected production amount. 48North has harvested 12,000 kg of dried cannabis from outdoor sources so far during the past year.
That number is a marked reduction from the company's previous statements that outdoor grow operations had the potential capacity to yield more than 40,000 kg of dried cannabis.
48North cited delays in the availability of licensed drying space for the discrepancy, with production capacity expected to increase in the coming months.
The company previously inked supply agreements for outdoor grown cannabis to be sent to the Ontario Cannabis Store, Société Québécoise du cannabis, and the Alberta Gaming, Liquor and Cannabis agency.  As of the end of September, 48North is still on track to meet those agreements despite the reduced output.
Production costs were listed as $0.25 per gram at an outdoor harvest with the Good:Farm location, significantly beating out Aurora's $0.85 per gram production cost cited during the same period.
The Q1 2020 period saw incoming revenue of $1.6 million for 48North, more than tripling from the company's previous quarter revenue of $484,000.
The end of September saw the company with $40 million in cash on hand, $99.23 million in total assets, and $8.3 million in overall liabilities.
Discussing the release of the quarterly numbers, 48North Chief Executive Officer Alison Gordon commented:
48North achieved all of the milestones it targeted in Q1. Our strong business performance throughout the quarter increased revenue growth. That said, today's numbers do not include revenue from the company's outdoor cultivation facility. Next quarter, and in subsequent quarters, 48North expects to begin showing increased revenue from the sale of dried cannabis from Good:Farm and next-generation cannabis products.
After the end of the fiscal Q1 2020 period, 48North acquired Sackville & Co. Merchandising Ltd, finished construction at the Fume Labs extraction facility for producing vape products, and inked a licensing deal with APCNA Holdings LLC to sell cannabis topicals.
NCNNF was down slightly to $0.27 a share this morning, and has lost more than 75% of its value from the high point of $1.20 it sold at back in early March.
The opinions provided in this article are those of the author and do not constitute investment advice. Readers should assume that the author and/or employees of Grizzle hold positions in the company or companies mentioned in the article. For more information, please see our Content Disclaimer.