Canadian licensed producer Aphria (NYSE:APHA, TSE:APHA) announced a surprise beat today with revenue of C$144 million beating consensus by a whopping 25%.
However, results below the line disappointed with EBITDA of C$5.7 million while consensus was looking for C$11.2 million.
EBITDA was lower than expected due to cultivation timing.
The company had more demand than it could supply internally and had to buy flower from other producers, meaning EBITDA should be up next quarter even if revenue is flat.
With most other LP's putting up such disappointing results, the stock should be up today due to the fact Aphria continues to take market share in the recreational channel.
Analyst consensus still doesn't truly capture what the market thinks until the investor base is primarily institutional investors, which is still not the case for potstocks.
Retail investors will just be relieved to see a company growing revenue and shrinking losses.
Overall Aphria trades on such a cheap multiple of revenue vs peers, the stock has huge potential for a catch-up trade if it continues to put up industry-leading results. Aphria and Village Farms are the Canadian growers to own in our opinion.  
Summary of Segment Results
| | | | |
| --- | --- | --- | --- |
| Quarter End (C$ Thousands) | 30-Nov | 29-Feb | QoQ % Change |
| Distribution | 86,442 | 88,308 | 2% |
|  Medical | 10,100 | 8,663 | -14% |
| Recreational | 22,978 | 35,866 | 56% |
| Wholesale | 630 | 11,037 | 1652% |
| Total Revenue | 120,150 | 143,874 | 20% |
Aphria Showing Early Cannabis 2.0 Win
Aphria may have grown revenue 20% quarter over quarter, but it was the recreational cannabis business that truly drove results.
Sales were up 56% driven by a $6 million increase in sales of newly released vaping devices.
Revenue per gram also increased, driven by higher margin cannabis 2.0 products.
Revenue per gram for recreational sales was $4.39 per gram, up 6% from last quarter's $4.13 per gram.
As cannabis 2.0 sales become a larger share of sales investors should expect revenue per gram to go up.
If this doesn't happen it means competition is pushing prices down at a rapid rate, not a good sign for the margin expansion analysts expect.
Most importantly this quarter, based on results in the recreational market it does seem like Aphria has certain brands that resonate with consumers.
Next Quarter Could be Dissapointing
Investors should be prepared for some COVID-19 driven hiccups in demand for Aphria's Q4 2020 quarter-end April 30th.
In the management discussion & analysis filing (MD&A), management warned that Alberta bought 40% less cannabis in its most recent order.
Ontario suspended orders for two weeks as well as they transitioned to a click and collect model.
Potentially offsetting a fall in orders will be the drug distribution business CC Pharma, which saw March sales up 10%-15% according to management.
Valuation Compelling
Regardless of short term COVID-19 hiccups, Aphrias stock price remains extremely compelling compared to Canadian peers.
The short report, written in 2018 continues to keep Aphria's multiple artifically low, but this scenario won't last forever.
We think once Aphria begins to generate consistantly positive EBITDA on a companywide basis, the valuation discount to peers will close leading to strong outperformance.
For example, Aphria has 1.5 years of cash remaining and is almost profitable, compared to Aurora Cannabis with only six months of cash and deep losses. yet Aurora trades at a 33% higher multiple than Aphria.
Even if we remove the distribution revenue, assuming the market only gives Aphria credit for the cannabis business, Aphria trades at 3x sales, 56% cheaper than Canopy Growth and at a fraction of Cronos's multiple.
Investors can make money on APHA stock two ways, if the multiple increases or if the company grows, this is something that can be said for only one other LP, Village Farms in our opinion.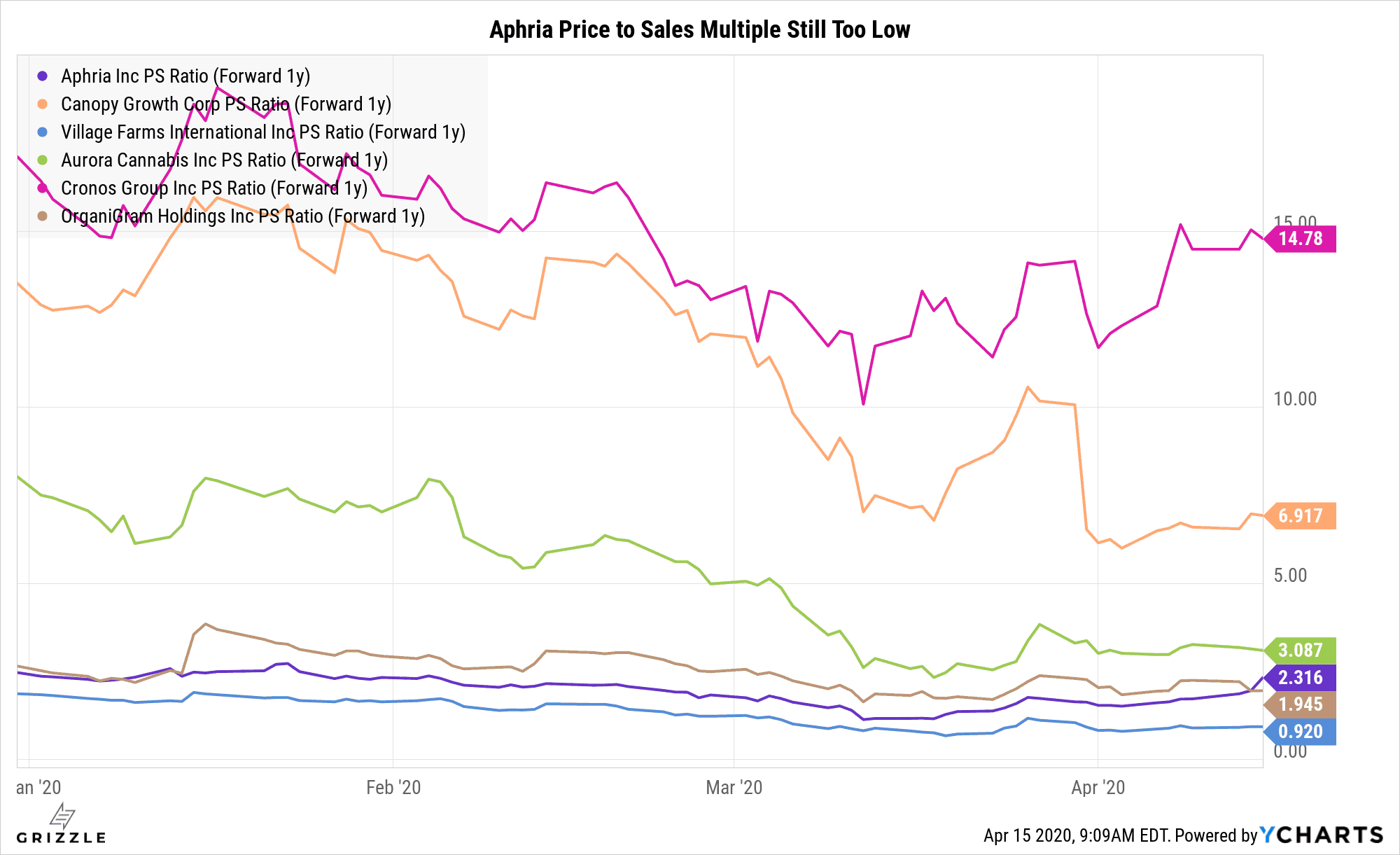 The opinions provided in this article are those of the author and do not constitute investment advice. Readers should assume that the author and/or employees of Grizzle hold positions in the company or companies mentioned in the article. For more information, please see our Content Disclaimer.