BYND: The Big Bang IPO of the Decade
The era of faux meat has officially begun, plant-based protein patties that look, feel and taste like the real meaty thing. Los Angeles based Beyond Meat (NASDAQ: BYND) is the belle of the science lab ball, having won over hoards of vegetarians and carnivores alike.
Beyond Meat's May 2nd IPO stands as one of the largest first-day pops in recent memory, shares rose 163% from the IPO price of $25/share to $65.75/share.
The first trade was 84% higher than the IPO price ($25) and the shares went on to gain another whopping +79% to close the day. The biggest gripe with IPOs is that there is very little left on the table for retail investors — simply wasn't the case here.
According to a University of Florida quantitative analysis between 1980 – 2018, the average first-day pop for an IPO is 18%. During the tech bubble (1999-2000) it was 65%. Beyond Meat is a clear outlier relative to history.
Grizzle nailed Beyond Meat from the get-go, highlighting the prospect of this being one of the biggest IPOs. We outline a significant structural upside case for the stock; it's a nascent industry that is truly disruptive (a word that's thrown around far too liberally).
Heavy Influencer Flex: Beyond Hippie & Beyond Soy-Boy
The marketing campaign for Beyond Meat has been nothing short of masterful, this is not marketed as some hippy-dippy shit lifestyle brand — there's a heavy cadre of big influencers (athletes, musicians) behind this.
The 'Beyond Ambassador' list is deep with legit all-stars like Kyrie Irving and Chris Paul backing the brand and the lifestyle.
Giving Snoop Dog a Beyond Meat food truck is nothing short of a stroke of genius, this is a marketing team that is full force. It makes the 'millennial-friendly' cannabis industry look absolutely bush league in comparison.
Shout out to @BeyondMeat for their IPO today ! U can get a taste of the future of protein tomorrow for FREE ‼️ Visit https://t.co/S7w7dgZSnc #beyondambassador pic.twitter.com/WvInpUeZ5b

— Snoop Dogg (@SnoopDogg) May 2, 2019
Big Backers
While the 'Beyond Ambassadors' are all investors in Beyond Meat, the company also boasts some of the largest titans of business, media, and sports as early investors.
Big backers include Hollywood superstar Leonardo DiCaprio, Microsoft founder Bill Gates, industrial titan Jack Welch, and pop icon Justin Timberlake, to name a few.
Former CEO of McDonald's Don Thompson is also an early investor through a stake held by his venture capital firm. Don understands the dynamics of the fast food business better than anyone — this is a critical consumer vertical for Beyond Meat to win.
Fanboys Love Dem Plant Burgers
Anytime you have a company where the consumers are 'crazy cult-like' you better believe you have a 'crazy cult' stock — a very good thing for the share price.
Vegetarians are fully on board in a big way, Claudia Amendola sums it up well: "I hate all other plant-based burgers except BYND".
This sounds like exactly the sentiment that every vegetarian has on $BYND. It's even bringing some hard core carnivores across the line! Haha https://t.co/YortKVXJLA

— Thomas George (@thomasg_grizzle) May 7, 2019
The biggest push back for the current choice of veggie burgers on the market right now is that they all have a taste and texture akin to seasoned styrofoam — it's garbage.
The Beyond Burger is an absolute game-changer in this context. Vegans and carnivores can now coexist at the local burger joint — a cultural revolution of sorts.
My due diligence on this IPO started at the local A&W Burger (the best fast food burger chain in Canada, hands down).  My ratings versus the meat comparable (Teen Burger) are as follows: Flavour 7/10 and Consistency 9/10. It was easily hands down the best veggie patty I've ever had.
Diving into this Beyond Meat Burger at A&W right now … $BYND , real time analysis to follow 🍔🚀 #fakemeatstocks pic.twitter.com/yMivIvI61s

— Thomas George (@thomasg_grizzle) April 22, 2019
The big parallel here is Apple (NASDAQ: AAPL) and the iPhone. You didn't have to be a big swinging player on Wall Street to understand something very powerful was brewing: line-ups, campouts – the 'crazy cult' vibe was very real and the Apple share price followed.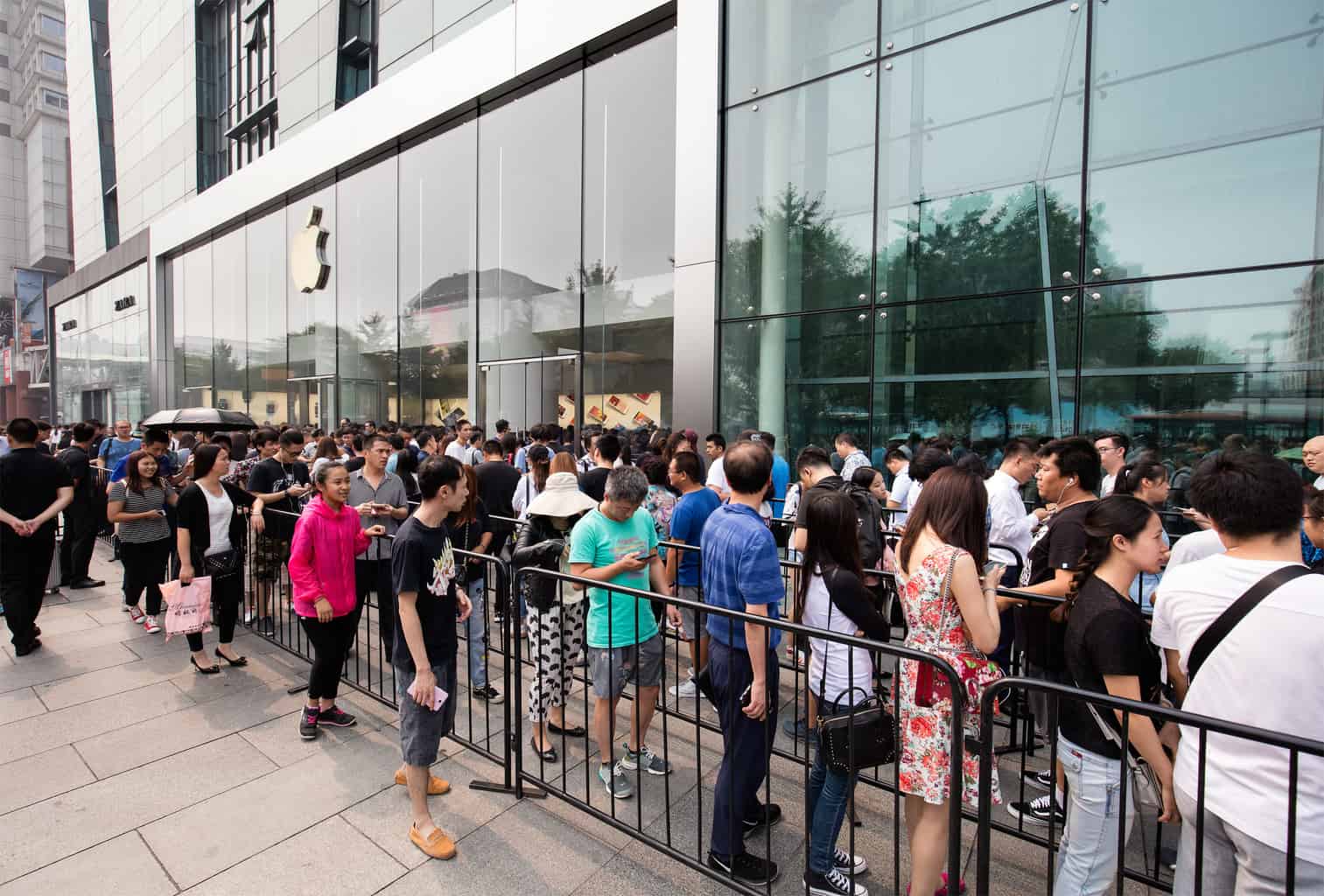 Nutritional Content: Plant Protein Stacks Up vs Meat
On the nutritional content side Beyond Meat bangs in line with beef, the biggest differences are saturated fats and cholesterol:
| | | |
| --- | --- | --- |
| | Beyond Meat | Organic Beef |
| Calories | 290 | 288 |
| Total Fat (g) | 22 | 22.7 |
| Saturated Fat (g) | 5 | 8.7 |
| Protein | 20 | 19.5 |
| Cholesterol (mg) | 0 | 81 |
It's a list of 22 ingredients that give Beyond Meat the flavour and texture similar to a traditional beef patty.
Pea protein isolate has been getting a lot of attention as it's one of Beyond Meat's key ingredients in the burger. In its SEC filing, the company stated the limited number of suppliers as an operational risk. We believe over the long term it is a risk that can easily be mitigated as more suppliers come on board.
Scale and R&D will Bring Down the Cost of Beyond Meat
At Whole Foods, a Beyond Meat burger sells for $11.98/lb, in comparison, organic beef sells for $6.99/lb – a meaningful gap in pricing for the consumer.

Beyond Meat is still in the very early stages of growth. We believe that production scale is an important lever for the company to structurally reduce unit pricing.
We believe that once Beyond Meat pricing goes lower than organic beef, it opens up entirely new market segments.
Additionally, there is a significant amount of R&D involved in the production of Beyond Meat — any breakthroughs (ie. use of a lower cost plant feed-stock) goes right to the bottom line.
We believe that once Beyond Meat pricing goes lower than organic beef, it opens up entirely new market segments. The holy grail for the stock is to be viewed as the 'value option' in the grocery aisle; that would be a breakthrough for the company, the sector and most importantly the stock.
The Environmental Case for Plant Protein is Strong
A 2018 scientific study by the Weizmann Institute of Science found that an equivalent hectare of land used for plant protein vs animal feed had the ability to ultimately produce 96% more protein.
Beyond Meat has stated that it's plant-based meat produces 90% less greenhouse gas emissions, uses 99% less waste, 46% less energy and 93% less land. These are staggering environmental benefit figures given the marginal 'taste' trade-off compared to normal meat.
The Growth Runway for Plant-Based Meat is Massive
Plant-based foods are absolutely crushing all other food categories, in 2018 Nielsen estimated that cheese alternatives and meat alternatives grew at 45% and 30% growth rates respectively, this is in comparison to the growth of the overall food category at 2% and animal meat at 2%.
Meat alternatives are only now starting to penetrate fast food chains and general grocery store chains, this is truly very early stage growth.
The global meat industry is estimated to be worth $1.4 trillion, the U.S. industry comprises $270 billion of that total.
The U.S. plant-based meat market in 2018 was estimated to be worth $670 million, representing an insignificant 0.25% of overall meat demand.
We believe the industry is merely scratching the surface in terms of structural growth. Meat alternatives are only now starting to penetrate fast food chains and general grocery store chains, this is truly very early stage growth.
We believe a 40% annual growth rate over the next 11 years in America is more than achievable and would result in an industry worth in excess of $34 billion by 2030 and would represent less than 10% of the overall U.S. meat market. To put that into context, milk substitutes currently have a 10% market share vs. milk.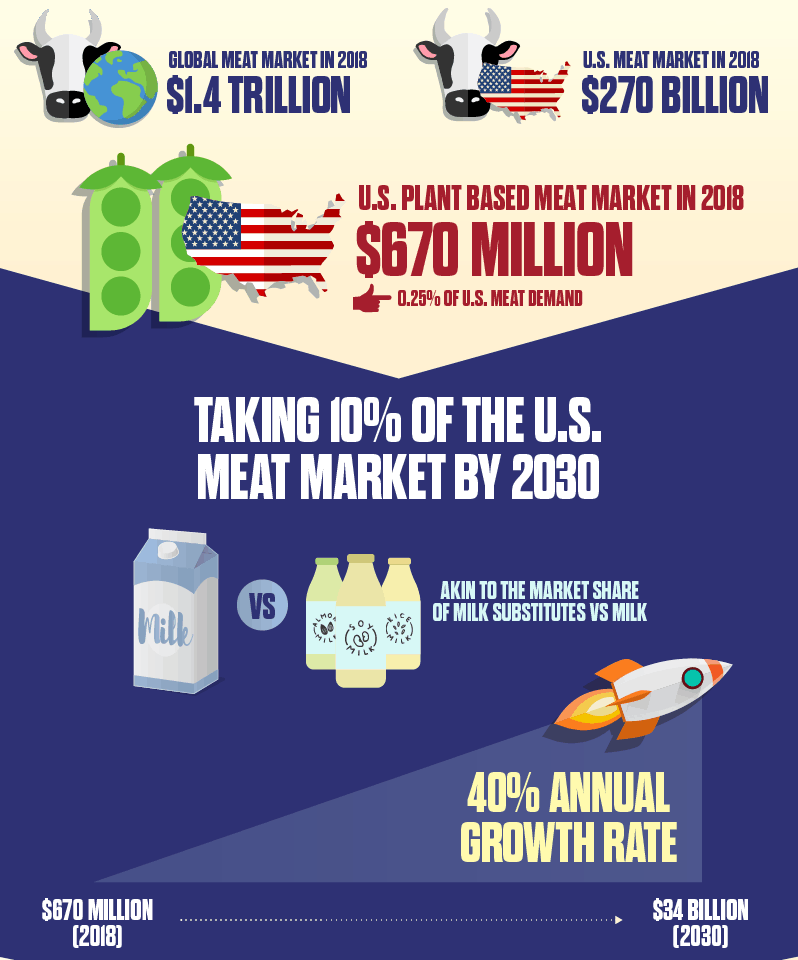 By 2030 we estimate the global meat market will be worth $2.5 trillion dollars, this would represent a global plant protein opportunity of $250 billion at a 10% penetration rate. This is a massive pie that can be shared among several global 'plant protein' titans.
The Competitive Landscape & Profitability
The three biggest pushbacks on the Beyond Meat investment thesis are:
Competition
Profitability
Valuation
We'll address points 1 & 2 in this section and point 3 in the following section.
Competition
Bears are quick to point to Beyond Meat's largest competitor Impossible Burger as the key threat to market dominance. Also, the fact that Tyson Foods, an initial investor in Beyond Meat, is selling its 5% stake and focusing on its own alternative meat product.
To put it bluntly, we're not overly concerned about the competitive threat. First mover advantage in a nascent industry is massive, especially as it relates to consumer preferences. Beyond Meat has a knock-out, delicious product with super-fans and a next level marketing push. The power of branding and first mover advantage can't be underestimated.
The Impossible Company may very well prove to be a formidable competitor, but given the massive opportunity in the plant protein market, there is more than enough market share to go around.
Profitability
Any investor that gripes and squeals about Beyond Meat being unprofitable today and clearly a bad investment is simply out of their depth, an investing equivalent of a low testosterone 'soy-boy' if you will. Growth investing requires vision and the ability to take big risks.
It's blatantly obvious how nascent an industry this is, bitching about profitability when penetration of plant protein is less than 0.25% of the meat industry and Beyond Meat sales are growing annually at 200% is amusing to say the very least.
These are early-stage companies operating in the equivalent of undersized high school science labs. Capital will drive scale, and scale will drive costs lower.
Intuitively at scale, a plant-based protein company should be as profitable as its meat competitor (likely more) and it should be able to sell its product for an equivalent price of its meat competitor (likely a whole lot less).
Refer to the environmental section to understand how the economics of this work out in the long-term. The plant protein process skips an entire step of the food chain (no cow to fatten up).
Valuing the Multi-Bagger Opportunity Over the Next Decade
Our prevailing view is that Beyond Meat is almost certainly acquired by a big boring food conglomerate sometime over the next 5 years. This is exactly what happened to Whitewave Foods — the largest organic food company in the world — it was acquired by Danone (Euronext Paris: BN) 4 years after its IPO.
If by some miracle Beyond Meat has managed to fend off suitors and exists in 2030, we believe the upside in the stock would be tremendous. This company and the industry are far too early stage for the standard '1-year target price' dog & pony research reports from Wall Street to have any relevance.
For truly disruptive industries the correct valuation treatment is to assess the potential size of the market a decade into the future and the related market share for the company.
We believe that Beyond Meat can realistically capture 40% of the U.S., and 25% of the global (ex-U.S.) plant-based protein market by 2030. Ascribing either a 1X revenue multiple or 18x price to earnings (P/E) in 2030 gives BYND a value of $1,100/share.
Additionally, we believe India presents a legitimate 'bonus' market for the plant-based protein industry — a country that is primarily vegetarian. The Indian fast food industry is growing at a blistering annual rate of 20%, by 2030 we estimate this market will be worth $250 billion.
If Beyond Meat captures 5% of the Indian Fast Food market by 2030 it would add an additional $150/share of value. Presenting an upside case of $1,250/share for BYND.
There is also a genuinely blue sky scenario where plant-based protein becomes cheaper than meat on a $/pound basis. It would truly be a tipping-point, a product that is comparable to meat at a 20-30% discount defines the term 'disruption'.
For this reason alone, the established food industry titans will not be inclined to get too cute with this sector; either buy out these companies or be eaten — literally and figuratively.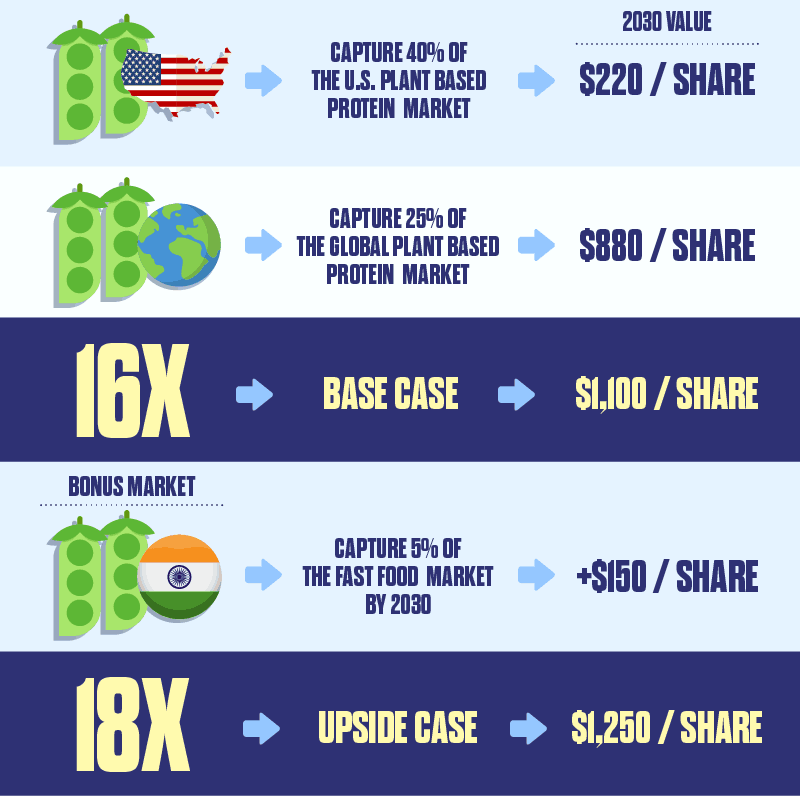 In the interest of full disclosure, employees of Grizzle personally purchased and currently own stock in Beyond Meat. See the Content Disclosure section here on our Terms and Conditions page for more details.
The opinions provided in this article are those of the author and do not constitute investment advice. Readers should assume that the author and/or employees of Grizzle hold positions in the company or companies mentioned in the article. For more information, please see our Content Disclaimer.