COINSQUARE – EXCHANGE REVIEW & USER GUIDE
An up-and-coming exchange based out of Canada, Coinsquare offers incredibly fast verification, many deposit options, an easy-to-use interface and reasonable fees. + $20 signup bonus
FEATURES
Coinsquare Wealth for high net worth traders

Candlestick charting

Order book

Quick trading from the exchange platform
FUNDING METHODS
Credit Card
Interac E-Transfer/Online Payment
Flexepin
Money Order
Bank Draft
Wire Transfer
Pros
Instant account verification

Many deposit options for Canadian residents

Easy to use, clean interface

Quick trading available
Cons
Only available to Canadian residents

Few coins pairs available for trading
Signup and verification for Coinsquare is quick and straightforward if you use their Equifax verification process. You just enter some basic details about yourself like name, address, and phone number.
Alternatively, the standard verification process makes you run through the typical procedure of providing government ID and bank statement needed to verify identification.
The user experience past the registration process is positive, with the Coinsquare dashboard providing an intuitive layout that makes it easy to explore cryptocurrency prices, charts, and make trades.
The layout is sleek and easy on the eyes, and pop-up notifications give users tips upon first use of the platform.
Coinsquare offers trading for only six of the top cryptocurrencies (as of March 2018): Bitcoin, Ethereum, Bitcoin Cash, Litecoin, Dogecoin, and Dash.
The majority of trading is done in Bitcoin, Ethereum, and Litecoin, with the other coin pairings making up a small amount of the trading done on the exchange.
Though there are exchanges with less variety, there aren't enough trading options on Coinsquare for those looking for a more diverse trading option.
The exchange has yet to be hacked or lose a single coin since its inception in 2015. This is welcome news for traders who have seen many hacks and security breaches in the industry.
The exchange claims it holds 95% of coins traded off the exchange, which adds to its perceived privacy, but that information has yet to be verified in any meaningful way.
So, is Coinsquare safe? Overall, the exchange seems trustworthy until users are given a reason to think otherwise.
If opting for the Equifax verification process, you only need to provide basic details: name, address, phone, DOB, and occupation.
If you opt for the standard verification process you must supply both ID verification (e.g. driver's licence) and address verification (e.g. utility bill).
If you don't like the idea of Coinsquare verifying your details with Equifax be sure to untick the pre-selected box on the identity verification form (see above image): "I consent to having my information verified with a third party so my account can be instantly verified."
Coinsquare is not all that transparent in their operations here, by pre-selecting the box for you and not mentioning who the third party is that they share your information with (it's Equifax).
Coinsquare offers a variety of funding methods: Interac online payments, Interac E-Transfer, Credit Card, Flexepin, Money Order, Bank Draft and Wire Transfer. Funding times vary depending on the method you choose.
Interac Online is the best option as funding is instant and money can be drawn directly from your bank account — unfortunately, only certain banks offer this feature (RBC is one major bank that does offer it).
The alternative Interac E-Transfer will take you 24-48 hours on average and comes at the same reasonable rate of 2.5%.
The new Credit card option for funding is convenient but at a fee of 10% it is an expensive option only to be used if none of the other alternatives can be used.
Funds are put on hold for up to 7 days after you deposit, however, during that time you can still trade for crypto, you just cannot withdraw it. There is a withdrawal period of 1-9 days.
| | | | |
| --- | --- | --- | --- |
| METHOD | MINIMUM (CAD) | FEE (%) | PROCESSING TIME |
| Interac Online | $100 | 2.5 | Instant |
| Interac E-Transfer | $100 | 2.5 | 1-5+ days |
| Credit Card | $100 | 10% | Instant |
| Flexepin | $20 | 2.5 | Instant |
| Bank Draft | $1,000 | 2.5 | 1-3+ days |
| Money Order | $100 | 2.5 | 1-3+ days |
| Wire Transfer | $10,000 | 0.5 | 0-3+ days |
| | | | |
| --- | --- | --- | --- |
| METHOD | MINIMUM (CAD) | FEE (%) | PROCESSING TIME |
| Direct Bank Deposit | $100 | 1 | 1-9 days |
| Wire Transfer | $10,000 | 0.5 | 1-9 days |
Coinsquare's trading fees range from 0.1%-0.4% depending on the method of trading, which is in line with industry standards.
It will cost 2.5% for a standard Interac bank deposit and as low as 0.5% for wire transfers (though this second option is reserved for traders who have built up a significant trading history).
Withdrawing crypto will come with a fee dependent on the currency withdrawn, and is quite high for Bitcoin (see below).
Overall, Coinsquare's fee structure is straightforward and there are no surprises, meaning users can know right away what it will cost to use the exchange.
Fees for cryptocurrency withdrawals:
Bitcoin: 0.0025 BTC
Bitcoin Cash: 0.001 BCH
Ether: 0.005 ETH
Litecoin: 0.02 LTC
Dash: 0.002 DASH
Dogecoin: 2 DOGE
The Coinsquare help centre offers articles on widely asked topics, such as account verification, withdrawals, and trading.
For more personal requests, users can submit support tickets through the Support Centre.
From the Support Centre it is easy to reference previous support tickets, check on their status, and follow-up with a support representative.
Support claims tickets are answered in 1-2 business days, but responses can be even faster for simple requests and/or claims.
If taking the Equifax verification option (refer to highlighted box in first image below), verification is incredibly quick.
You simply fill out a form with some basic info and as long as your details line up with what Equifax has on you, you're approved.
Pair that with one of their instant funding options like the popular Interac Online transfer and you can be trading in minutes.
Though you can fund your account and trade for your crypto really quickly, Coinsquare does institute a withholding period of up to 7 days before you can withdraw your money.
The withdrawal process can take up to 9 business days to process and requiring a minimum of $100.
Signup - 5 minutes
ID Verification - 0 - 1 business days
Deposit - 0 - 5 business days (depending on deposit method)
Trade - Instant
Withdrawal - 1 - 9 business days
Even though Coinsquare only focuses on 6 cryptocurrencies, it has yet to gain the trading volume necessary to make it a force in the industry.
As a Canadian company, the exchange's largest volume comes from its BTC/CAD pairing where it processes close to $3 million daily.
All other pairings trade with a volume under $1 million daily, which makes for sub-optimal liquidity on the exchange, however, this doesn't impact the typical investor looking to buy an average amount of BTC or ETH.
The advanced trading functionality allows for candlestick charting and the use of other tools, including order book, and pairing sales table.
Coinsquare Wealth provides added customer support and service for high net worth individuals looking to trade on the exchange.
However, without advanced charting indicators, trend line functionality, and other tools found on most major cryptocurrency exchanges, users will want to go elsewhere to do higher level technical analysis.
Coinsquare is a fantastic option for Canadian residents for its variety of deposit options, lightning fast verification times, reasonable fees and clean user interface.
Users in other countries or who are looking to trade an array of coins won't yet find the benefit in using the exchange.
That could soon change, however, as a plan for global growth is on the way with a recent $30 million investment into the project that could result in future business in the United States and United Kingdom.
An up-and-coming exchange based out of Canada, Coinsquare is a quick and easy exchange to get started in cryptocurrency.
After verifying your email you will be taken to the Coinsquare homepage that displays the verification information you will need to complete your account.
The first form of verification is providing your phone number, which will be verified via text message.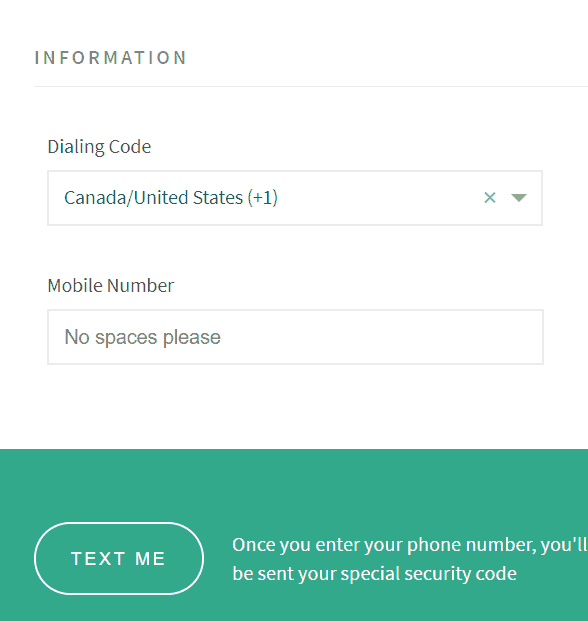 After verifying your phone number, fill out the personal information required in the 'All About You' section.

NOTE: If you leave the box at the bottom ticked it will automatically verify your information with Equifax and instantly approve you to fund your account. For those who want to save the time and hassle taking pictures of your documents, uploading them and waiting to be verified, this is the recommended option and is one of the major selling points of Coinsquare.
Coinsquare 2-factor authentication (2FA) can be enabled via the Coinsquare app or Google Authenticator. The Coinsquare app can be downloaded in the Google Play or iOS Store on the applicable device.
On the desktop site:
Navigate to your account settings page and select Coinbase 2FA
Click the 'Generate Key' button at the bottom of the page to generate a QR code that will be used in your authentication
Download the Coinsquare app
Navigate to the Settings option
Select the Two Factor Authentication option
Use the QR scanner to scan the code on the desktop site to enable 2FA.
To enable 2FA via the Google Authenticator app, navigate to the same settings page on the desktop and select Google Authenticator.
Use your Authenticator app to scan the QR code and enter the 6-digit activation code in the prompt. Activate the code and your 2FA will be set-up using the Google Authenticator app.
Once your account is verified, there are many options to choose from in depositing on Coinsquare.
Choose the deposit method that best suits your needs based on minimum deposit, fee, and time for the funds to be secured on the exchange.
Directions for all funding your Coinsquare account with any funding method can be found here.
Funding via Interac Online will take you to the Interac Online portal where you will need to follow the directions to complete the deposit.
Flexepin can be another easy method of depositing fiat funds into Coinsquare.
Simply choose Flexepin as your funding method and enter in your Flexepin voucher pin code to verify your voucher and make your deposit.
5. Purchase Cryptocurrency
Purchasing cryptocurrency can be done directly on the Coinsquare dashboard. Use the Quick Trade tool on the left hand side of the navigation to enter in the coin you would like to trade for, the amount, and what you would like to trade. Then select the Get A Quote button to instantly make the trade.
The Coinsquare Dashboard provides all of the basic functionality to make a trade using all available market information.
The top pane allows for navigation across the exchange, to fund your account, access advanced trading tools, and take a look at your user settings, amongst other functions.
Currency pairings can be changed at any time, which will update the base currency for the rest of the dashboard functions.
Get a snapshot of your current cryptocurrency and fiat holdings on the platform.
Major market movers are noted with small charts and percent change to keep traders alert on what to lookout for in today's trading.
Quick trading can be accessed directly from the dashboard for any available cryptocurrency pairing.
The Markets view gives quick access to top level cryptocurrency information.
Charting can be done on any currency pair and done on a granular or long-term level.
Withdrawals can be made by navigating to the Fund/Withdrawal page on the exchange.
The withdrawal overview screen will give information about your current account balance in the currency option of your choice, how much of your balance is being held, and how much is available for withdrawal.
If there are funds being withheld you will also see a note delineating the date when the funds will become available for withdrawal.
Decide on a withdrawal amount and the method with which you would like to use to withdraw and submit your request. 
As an added layer of security, you will have to confirm the withdrawal information via a link to the email address on record for your account.
Bonus Tip - Larger Trades
Looking to make a larger cryptocurrency purchase?
Coinsquare Wealth is available for high net worth individuals and offers lower trading fees, priority customer support, and a dedicated account manager.
Coinsquare makes trading more comfortable for those looking to make larger deposits to the exchange, even if they are brand new to cryptocurrency.
About Author
Users should be aware that if they click on a cryptocurrency link and sign up for a product or service, we will be paid a referral fee. This in no way affects our recommendations, which products we choose to review or our advice which is the sole opinion of the authors.
The opinions provided in this article are those of the author and do not constitute investment advice. Readers should assume that the author and/or employees of Grizzle hold positions in the company or companies mentioned in the article. For more information, please see our Content Disclaimer.