Recent news (paywall) of Fidelity Investments, the large Wall Street financial services firm that oversees $2.4 trillion in global assets, preparing to launch its own crypto asset exchange is yet another example of big money and influence staking a bet on cryptocurrency being a major asset class of the future.
Not the First Sign that Fidelity is Serious about Crypto
The 'smart' money now sees what the technology evangelists and early-stage investors have seen for years — that crypto is real and it's here to stay.
The move should not be totally surprising, as Fidelity has been actively investigating crypto assets as far back as October when CEO Abby Johnson revealed that the company was mining both Bitcoin and Ethereum. But what is interesting about the news is that it signals a trend starting to form of established enterprises contributing their money, time, and influence into the cryptocurrency ecosystem. This trend is surely a sign that the 'smart' money sees what the technology evangelists and early-stage investors have seen for years — that crypto is real and it's here to stay.
More and More Wall Street Firms Dipping their Toes in the Crypto Waters
Fidelity isn't the first big Wall Street firm to put serious time and money into crypto. Goldman Sachs has been hiring to build up its cryptocurrency market trading in addition to being an investor in Circle, a crypto based peer-to-peer payments and investment platform.
Nasdaq has partnered with Gemini Trust, a digital asset exchange, to provide its surveillance and monitoring technology for trading as well as the Nasdaq CEO stating that it would consider becoming a crypto exchange once the market matures. The parent company of the New York Stock Exchange (NYSE) has also been working on an online trading platform to allow investors to trade Bitcoin.
Even JP Morgan, whose CEO Jamie Dimon famously bashed Bitcoin calling it a fraud in September 2017, has since reversed course and created a Crypto-Assets Strategy position to bring new cryptocurrency projects to market.
Big Venture Capital from Silicon Valley backing the Crypto Incumbents
Wall Street may be late to the game as Silicon Valley has been in on the act for some time with venture capital-backed companies focused on crypto assets. Coinbase, one of the largest crypto exchanges, counts Union Square Ventures and Andressen Horowitz as early investors.
While Robinhood, the popular commission-free mobile-based investing platform that now allows trading of crypto for its users in some states, was backed early on by VC giants such as Kleiner Perkins, Sequoia Capital and Google Ventures.
Big E-Commerce Platforms already Accepting Crypto
There are also large technology and e-commerce platforms like Microsoft, Expedia, and Square which all allow users to pay for services at least in part using Bitcoin. These platforms spread the ability of holders of crypto to use it as it was intended, as a currency for exchange, and demonstrate that the infrastructure enabling its use already exists.
Charting the Narrative, Influencers are Making the Case for Crypto
Finally, there are prominent promoters of cryptocurrency who are helping to chart the course in the public discourse of cryptocurrency as something to be taken seriously.
Noted economist, Nassim Taleb, has argued that Bitcoin has inherent value because it isn't controlled by governments. Peter Thiel, a prominent venture capitalist, has compared Bitcoin to being the equivalent of digital gold with serious potential to occupy the store of value market. And Jack Dorsey, the CEO of both Twitter and Square, has evangelized that Bitcoin may very well become the native currency of the internet.
There have been many naysayers from the establishment, such as Warren Buffet famously calling Bitcoin "rat poison squared" and deriding it as not having any tangible value. But if you put together all of the big banks, investors, companies and influential people who do see the value of a decentralized asset with many different use cases, it's clear that if you follow the money, crypto is something to take seriously and is here to stay.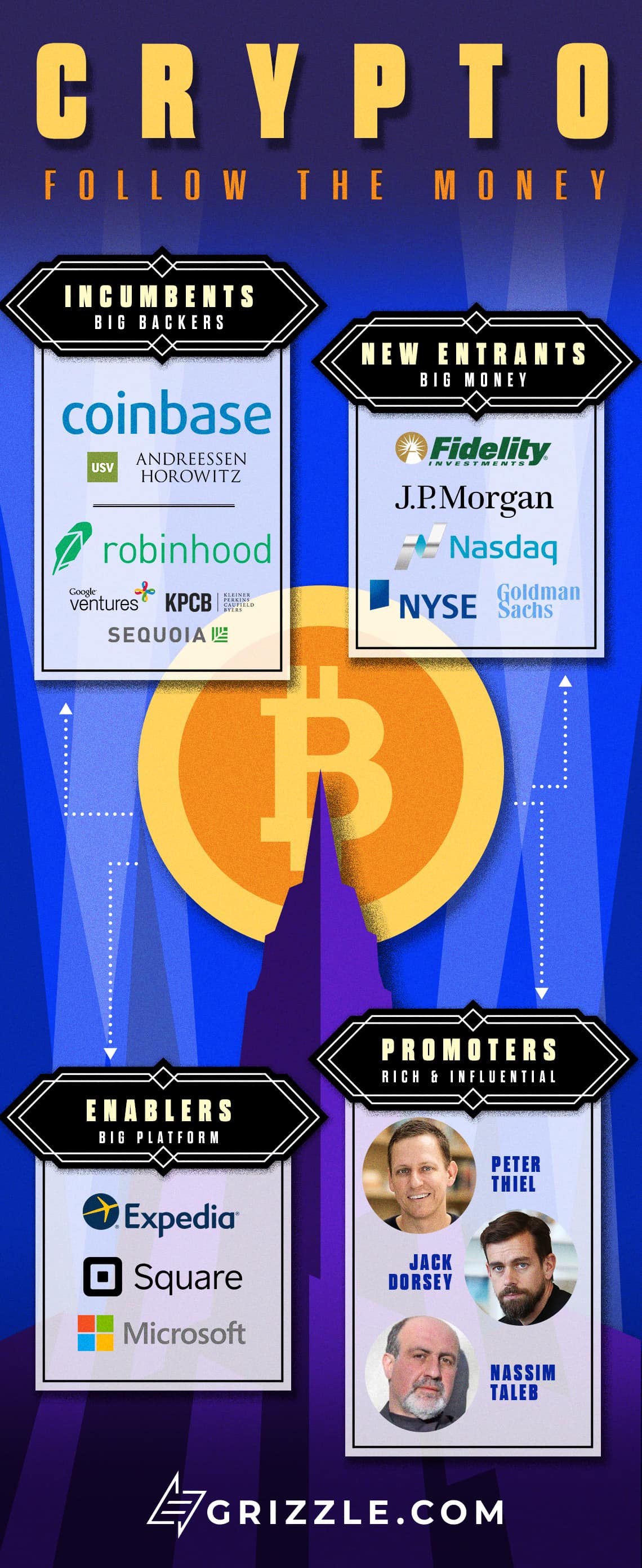 About Author
Users should be aware that if they click on a cryptocurrency link and sign up for a product or service, we will be paid a referral fee. This in no way affects our recommendations, which products we choose to review or our advice which is the sole opinion of the authors.
The opinions provided in this article are those of the author and do not constitute investment advice. Readers should assume that the author and/or employees of Grizzle hold positions in the company or companies mentioned in the article. For more information, please see our Content Disclaimer.