Grizzle strategist Chris Wood lays out some compelling reasons for why Japanese stocks may be set to outperform international stocks. With deflation less of a concern that it seems and valuations attractive, Chris is bullish on Japan.


Organigram's earnings were a microcosm of all the problems plaguing the industry. Falling prices and not enough demand led to big write-downs and destroyed shareholder value. We will repeat what Grizzle has been saying for 18 months, the Canadian cannabis industry needs supply and demand to balance before the stocks are worth any of your attention compared to the rest of the market opportunities.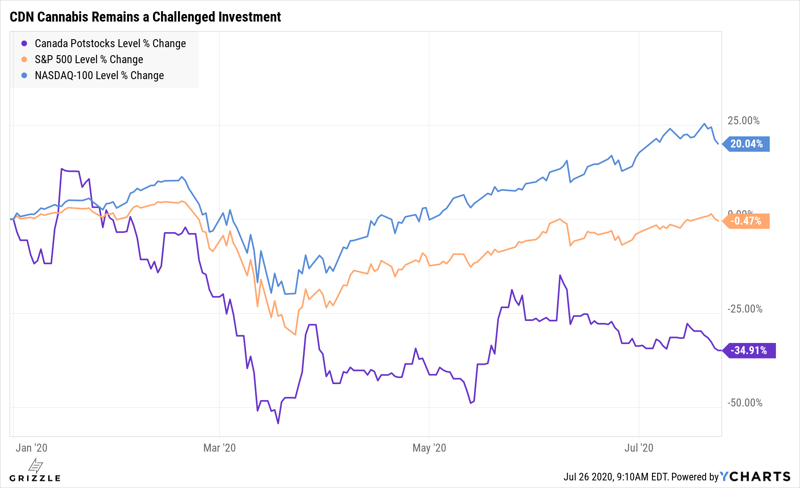 This stock will give investor's a nice way to track market sentiment on how the opportunities in Europe compare to those in Canada and the U.S. Watch EMMAC to see what management says about exports to Canada, competition in Europe or a strategy to enter the U.S. market. Any three of these moves could impact the fortunes of U.S. or Canadian licensed producers and the stock prices.
A must watch interview with perhaps the most accomplished CEO in the legal cannabis industry. In contrast with Canadian CEO's who were all talk and no execution, Trulieve continues to set the standard for profitable growth. Kim Rivers does an excellent job addressing recent employees concerns about how the company is handling the quarantine, contact tracing and benefits of employees infected with COVID-19.
Lets say pure CBD and natural terpenes do end up working as a treatment for COVID-19 infected patients. The extra demand for those products won't do much to balance the market, there is still so much supply out there. Also with vaccines on the horizon, the window for real demand from hospitalized patients is rapidly shrinking. If you can identify the few company's with late stage clinical trials, there is a trade here, but overall we don't think the potential from recent research studies will do much for cannabis stocks as a whole.
Consumers will now be forced to go back to the government run cannabis store if they want delivery which is less convenient than ordering from your favorite local dispensary. The legal market just lost a meaningful selling point and at least some consumers will go back to their black-market dealer as a result. The government cares about public health and safety above all and has no problem handicapping the legal cannabis industry's ability to win over black market customers.
With legislation to fine those who help unlicensed cannabis businesses operate on the way, it will be very interesting to see if a $30,000 a day fine will make a dent in the illicit market's dominance of California more than two years after legalization. The key to making this all work will be enforcement. If no one has to pay the fine in real life, then it won't do anything to dissuade those helping the illegal market reach consumers.

This is a must watch if you are thinking of owning Tesla stock or are currently a holder, wondering if the stock is going lower. We explain why the stock doubled in the last 3 months and if Tesla's inclusion into the S&P 500 will actually be a catalyst or a "sell the news" event.
Software stocks continued to pull back and with earnings kicking off in a big way next week, get ready for some fireworks. These stocks are so expensive they will need to show earnings beats and improved guidance to go higher in our opinion. The downside for those that didn't benefit from COVID-19 as much as investor's expected will be severe.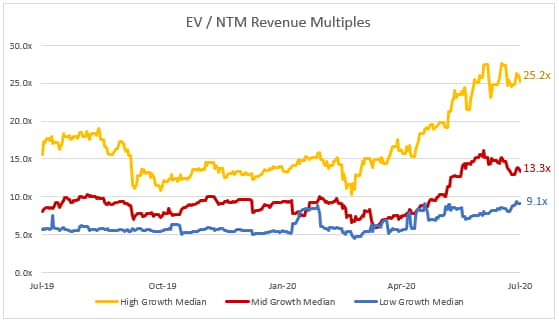 Source: https://cloudedjudgement.substack.com/

In addition to the earnings report in the link above, check out this video from last week's Grizzle Live to understand the valuation of Chipotle and what was priced in going into earnings. Chipotle has been an amazing stock since March but the reality of a COVID-19 dining world have now caught up to it. Management refused to give guidance which actually means online orders are not strong enough to make up for lost walk-in business. The stock now lacks a catalyst and will struggle through the rest of the year in our view.
Grizzle's own Thomas George has over 15 years experience investing billions in Gold, Silver and other commodities so when he gets excited about an investment we all stand up and listen. Also check out this well researched quantitative analysis on which silver stocks are best to own from our friends over at Capital10x.com.
When silver goes……IT GOES!
FORWARD THIS EMAIL TO SHARE GRIZZLE'S TOP INVESTING INSIGHTS WITH FRIENDS & COLLEAGUES.
The opinions provided in this article are those of the author and do not constitute investment advice. Readers should assume that the author and/or employees of Grizzle hold positions in the company or companies mentioned in the article. For more information, please see our Content Disclaimer.