HITBTC – EXCHANGE REVIEW & USER GUIDE
An exchange for advanced traders, HitBTC offers great trading tools to make the best market decisions among the hundreds of coin pairs to choose from
FEATURES
One of the most diverse coin offerings in the industry
Advanced charting options and tools
Editable trading platform layout
FUNDING METHODS
Pros
Over 500 coin pairings to choose from
Quick registration process
Great for technical traders
Cons
No fiat deposit or withdrawal options
Fees for cryptocurrency deposits
Increasingly unfavourable fees
Getting started on the exchange is simple, and only requires an email address. The exchange trading platform is filled with in-depth features that can be intimidating to newer users that aren't familiar with many of the functions.
Without a quick buy function, purchasing cryptocurrency is done on the trading platform and is not intuitive for new users.
Outside of registration, the platform isn't suited for the uninitiated or those just looking to purchase cryptocurrency with the click of a button.
HitBTC may be the best-in-class when it comes to trading options. Not only are industry heavyweights such as Bitcoin, Ethereum, Litecoin, and others traded on the exchange, but lesser known altcoins can be traded as well.
This even goes for coins that are well out of the top 100 in the industry.
This variety of coin pairings is upward of 500, and is unprecedented in an industry that tends to shy away from introducing trading for newer coins, a welcome feature for active traders and those looking to make purchases of coins before they become well-known to the rest of the market.
There's even a section of ICOs to trade directly from the exchange view, making it easy to filter through these coins with the click of a button.
HitBTC was hacked in 2015, shortly after it became open to the public. This certainly hurt the exchange's credibility, which it has been working to recover over the past several years.
HitBTC's System Health offers a display of the current status of the exchange, with the functions that are currently online and working properly, as well as the functions that are currently offline.
This is a transparent way to keep users informed of exactly what is going on with the exchange.
However, there have still been intermittent issues for users, such as deposits and withdrawals suspended for days at a time.
Yes, users have not had to worry about their coins being stolen or lost over the past several years, but other issues with the exchange leave users skeptical of its reputation.

Registration doesn't require any information and users can deposit and withdraw cryptocurrency using a general account. Since there are no fiat deposits on the exchange, bank account or credit card information is never compromised.
The verification process does require personal information, government-issued ID, and address information, but isn't necessary to get started on the exchange.
Verification will help with increased trading limits and lower fees, but if users are worried about keeping their information private they can always use a general account.
HitBTC used to offer fiat deposits and withdrawals for verified customers, however, now the only funding method for all HitBTC accounts is via cryptocurrency.
HitBTC has a partnership with Changelly, and it provides a Changelly link on the deposit page to redirect to the third-party site where users can purchase cryptocurrency via a credit or debit card, however purchases from Changelly are costly (10%) even if the coins are sent directly to an HitBTC wallet.
Withdrawals operate in much the same way, and increases to withdrawal and deposit limits will require further verification to obtain verified account status.
HitBTC uses a Makers/Takers trading fee model with Takers incurring a 0.1% fee per trade and Makers receiving a 0.01% rebate from a trade for providing the exchange with liquidity.
The rebate is a nice touch in enticing users to conduct more transactions.
Cryptocurrency deposits used to be free, but now come with a fee depending on the coin, such as 0.0003 BTC for bitcoin deposits.
Withdrawal fees are dependent on the coin being taken out of the exchange as well, with the following fees for some of the more popular cryptocurrencies on the exchange:
BTC: 0.00085 BTC
BCC: 0.0018 BCC
ETH: 0.00215 ETH
ETC: 0.002 ETC
USDT: 100 USDT
STRAT: 0.01 STRAT
LTC: 0.003 LTC
DASH: 0.03 DASH
XMR: 0.09 XMR
BCN: 0.1 BCN
ARDR: 1 ARDR
STEEM: 0.01 STEEM
HiBTC doesn't offer a ton of customer service options for its users. Documentation is lacking in many areas, and is often not up-to-date with changes to exchange policies.
There's no live chat option for getting a quick answer, meaning users must submit a ticket every time they have a question about their account.
Furthermore, tickets can take up to one week just to receive a response, adding to the underwhelming nature of the exchange's customer support service.
Users should not expect much help working through any exchange issues they might encounter.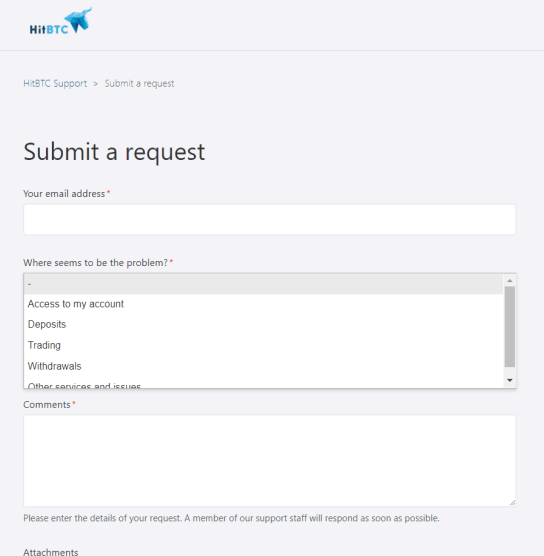 Registration and cryptocurrency deposits can get a user from sign-up to trading in no time.
Verification is time intensive and can take weeks to be approved, but isn't necessary to get up and running on the exchange, and trades and withdrawals can also be completed instantaneously.
As long as users already have cryptocurrency to deposit to the exchange, HitBTC provides a smooth transition to purchasing coins of their choosing.
Signup - 5 minutes
ID Verification - Up to 2 weeks
Deposit - Instant
Trade - Instant
Withdrawal - Instant
Total exchange volume exceeds $170 million daily, making HitBTC a top 15 exchange in the industry for trading volumes as a whole.
However, bitcoin trading volumes of about $50 million daily are not actually that great compared to other competitors, but the exchange makes up for it with solid trading volumes across a diverse range of coins.
Oftentimes it provides the only legitimate liquidity for lesser-known coin pairs and recent ICOs, making it the only option for trading in some cases.
The ability to edit the exchange page layout is a really nice way to customize the trading experience.
The trading platform itself provides some of the best tools for users to work with, including advanced charting, order book, and market depth chart for analysis.
Easily obtainable API keys and github documentation allow developers to build their own trading tools on top of the HitBTC platform.
HitBTC just released its first mobile app (only available for iOS devices), but it only provides limited functionality for viewing account information.
Outside of the limited mobile functionality, the exchange provides many features to keep users happy.
For traders who want access to a variety of coins that you can't get anywhere else, HitBTC is an excellent choice.
The combination of advanced trading tools and crypto-only deposits and withdrawals clearly point in the direction of users who are already involved in cryptocurrency trading and more advanced traders, especially since verification and personal identification are not required to get started.
New users will have a hard time finding benefit for using the exchange, but almost anyone else will find it to be a good choice trading new currencies.
Initial signup for HitBTC is quick and easy, while further verification is required for additional exchange features.
Initial registration can be completed directly on the HitBTC homepage with just an email and password setup.
A verification email will be sent immediately following registration to verify the email address entered.
Click the link or enter the confirmation code in the email.
If you don't receive the email make sure to check your spam or promotions folder, as verification emails can often be sent to those folders.
After verifying your email you'e completed the initial registration process and can begin depositing cryptocurrency.
Further verification is required to access lower deposit and withdrawal fees and increased trading limits, however it's not required for initial trading.
To begin the verification process, click the settings wheel at the top of the screen and the Account verification option in the settings page.
This page will display the current status of your account as well as the steps to follow for verifying your account.
You'll have to send an email to the HitBTC compliance department at compliance@hitbtc.com to submit verification.
Scroll down the page and you will see all of the required information needed when submitting to the compliance department.
HitBTC Two-factor Authentication (2FA) is highly recommended for keeping account information secure.
First, navigate to the Settings wheel at the top of any page on the HitBTC platform, then, select Security from the settings menu.
2FA is completed in conjunction with the Google Authenticator application, which can be downloaded to your mobile device via the Google Play or iPhone app store.
Follow the instructions provided to scan the QR code, secure your private key, and enter your validation code to activate Two-factor Authentication on your HitBTC account.
At this time the only way to fund your HitBTC account is through cryptocurrency.
To make a cryptocurrency deposit on HitBTC, first go to the Account section on the exchange and click the plus sign next to the cryptocurrency you would like to deposit.
You'll then be given a wallet address to where you can deposit cryptocurrency by either scanning the available QR code or copying the wallet address as shown.
You can also generate a new wallet address by selecting the Create new option on the left page of the screen.
A notification will display telling you the fee you will incur for depositing to this cryptocurrency wallet. Take this wallet ID and use it when sending cryptocurrency to HitBTC.
5. Purchase Cryptocurrency
Once a cryptocurrency deposit is made to your account, you can use the trading feature to purchase cryptocurrency. Navigate to the Exchange page to begin.
From the right side of the exchange screen, select the coin pair you're looking to purchase. This will then auto-populate the trading feature below.
In the Buy function select the appropriate order type you'd like to use when making your purchase.
Market orders are the simplest, but you can also use a variety of limit order types, or even a scaled order.
Enter the amount of cryptocurrency you're looking to purchase at the desired price and the total cost will be auto-populated.
You can also see the associated fees for this transaction at the bottom.
Once all of the information looks good, click the green Buy button to complete your order.
The HitBTC exchange trading view offers a great deal of tools and customizable functions to use when trading cryptocurrency:
Candlestick charting function, which can toggle from HitBTC View to Trading View to allow for overlay of technical trading tools and indicators
Cryptocurrency trading pairs available on the exchange
TrollBox to communicate with other exchange users
Account orders for the selected coin pair
Buy and Sell functions for transacting directly on the exchange
Exchange transactions for the selected coin pairs, with time, price, and amount information
Market depth for the selected cryptocurrency trading pair
Bid/Ask order book with volume totals
The withdrawal process is similar to the deposit, and requires navigating to the Account page and selecting the plus sign under the Withdraw column for the cryptocurrency you're looking to withdraw from the exchange.
From here, you'll be prompted to enter the amount of cryptocurrency you're looking to withdraw as well as the address to which the withdrawal should be sent.
You're also shown a fee for the withdrawal that you'll be charged.
Enter in the appropriate information and click the Withdraw button to complete your withdrawal.
Cryptocurrency continues to bring people from all over the world together to share their views and ideas of what coins are the best and most valuable.
The HitBTC TrollBox allows users to share ideas directly on the exchange and respond to one another for real-time discussions about cryptocurrency trading tactics, prices, and more.
You can passively read what other users are thinking, or join the conversation yourself.
About Author
Users should be aware that if they click on a cryptocurrency link and sign up for a product or service, we will be paid a referral fee. This in no way affects our recommendations, which products we choose to review or our advice which is the sole opinion of the authors.
The opinions provided in this article are those of the author and do not constitute investment advice. Readers should assume that the author and/or employees of Grizzle hold positions in the company or companies mentioned in the article. For more information, please see our Content Disclaimer.