It's becoming increasingly clear that future greenhouse capacity in Canada will be significantly more than the market requires. Canadians' positive outlook on the marijuana sector is driven by the expectation of massive international growth potential.
The legal producers expect their first mover advantage, in the large-scale cultivation and distribution of marijuana, will allow them to export sufficient supply abroad to absorb the excess capacity about to hit Canada.
Based on government surveys, medical use rates in Canada and legal producer construction plans, we estimate Canada will be oversupplied by at least 850,000 kg (85% oversupplied) by the end of 2021. International demand will have to consume the excess or else prices in Canada will quickly fall to as low as $2.50/gram, until enough companies go bankrupt to rebalance the market.
So How Much Canadian Marijuana Will the World Need?
Cannabis market research firm Brightfield Group sees worldwide legal sales of marijuana growing to $31 billion by 2021 from $6.7 billion today, however the U.S. will make up $19 billion of the total while Canada will be worth another $7-10 billion at retail prices of $8/gram.
The U.S. will not be an export opportunity for Canada longer term due to an already oversupplied legal market. There is a thriving black market in the U.S. and legal states have been able to meet demand with legal supply within 12 months of legalization, with the black market taking care of the excess demand in the interim.
We are left with a global market size of $2 billion to $5 billion by 2021, equal to demand of 200,000 kg – 500,000 kg per year, depending on prices. The problem is that Canada will be oversupplied by 850,000 kg, leading to much lower retail prices.
We know this is only one estimate, so to form our own view, we dug deeper into the political environment and growth potential of the European Union and Australia, the two regions being targeted for expansion by Canadian legal producers.
But First, Some History on Medical Demand
Other countries are far behind North America when it comes to acceptance of marijuana use. Use of marijuana for medical purposes has only been decriminalized in parts of Europe and Australia in the last 12-18 months.
Looking at the legalization history from Canada and five U.S. states shows us that the path from medical acceptance to legal recreational use can be a long one. On average it took 17 years from the date of medical legalization for the number of medical patients in each U.S. state and Canada to approach 1.3% of the population. Legal states in the western U.S. have higher usage rates than the rest of the country so the U.S. average from 2017 is a more reliable indicator of nationwide marijuana usage.

Source: Health Canada, Marijuana Policy Project *Canada patient numbers are Grizzle estimates for June 2018
But Won't Governments Move Much Faster Towards Legalization Now That They Have a Legal Framework From Canada?
Regulatory momentum in Europe and Australia will likely move faster than what we saw in North America, but looking at popular support of marijuana legalization in these regions, most citizens still do not want marijuana to be legalized for recreational use.
Popular support could take years to reach a majority before a vote on legalization has any chance of making its way through the difficult political opposition in Germany, Australia, and other European countries.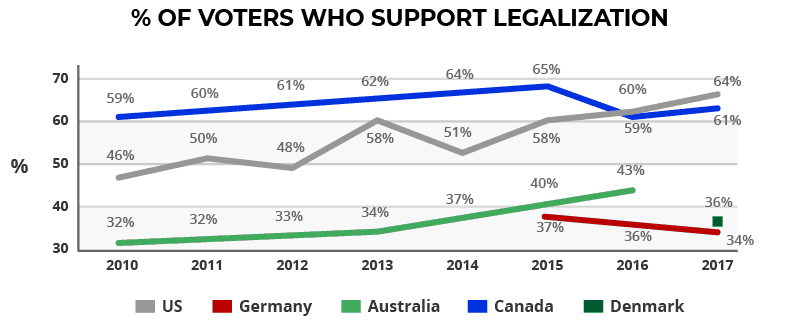 Source: Gallup, Ipsos, Forsa, Roy Morgan Research, Australian National University
Demand from Europe and Australia won't save Canada
Europe and Australia will be producing at least 320,000 kg per year of domestic production by the end of 2019 so imports will be lower than current expectations.
The European Union and Australia have stricter medical regulations than Canada and will likely have lower usage rates, at least initially. Even if we assume EU and Australia usage rates are in line with Canada, demand will peak at 800,000 kg a year by 2026 (1% of the EU population), compared to an oversupply in Canada that will reach at least 850,000 kg a year by 2021. Keep in mind these numbers assume Europe and Australia import 100% of supply.
Legal Producer Export Deals Equal Less Than 1% of Future Supply
Looking at all the international export deals Canadian producers have signed to date, they only add up to at most 3,000 kg a year, less than 10% of volumes produced in Canada TODAY and less than 1% of future capacity. We need to see explosive demand growth from Europe to even make a dent in Canadian exports.
Demand for Canadian Exports Won't Last
Throughout history, when governments or companies want to gain corporate knowledge from competitors the easiest way to do so is to form a joint venture or consulting arrangement and then terminate the relationship once you have absorbed all the intellectual property of the other party. China has basically institutionalized this strategy of knowledge transfer.
Once the competitors learn everything they can from Canada there is nothing stopping them from canceling the JV deals and creating their own domestic marijuana industry to compete with Canada.
Canadian legal producers look to be going down a very similar path, signing joint venture agreements instead of setting up wholly-owned production facilities and transferring growing techniques, strains and seed varieties to potential future competitors in exchange for only a licensing fee.
Governments prioritize jobs, public health, and tax revenues — all would be at risk if countries were to import their marijuana supply instead of growing it domestically. It is naive to think the rest of the world will let Canada have a monopoly on global marijuana supply. We worry that long term, meaningful international demand for Canadian marijuana may not materialize to the extent expected by the market.
Marijuana is quickly becoming a globally traded commodity, and will eventually trade on exchanges like corn, soybeans or coffee.
Being the low-cost producer will be extremely important to compete on a global scale. Growing costs in Canada are higher than equatorial parts of the world where there are more hours of sunlight, water is cheap and temperate climates allow outdoor growing where electricity isn't needed.
International Leaders Set Domestic Production Goals
"We would like to be, potentially, the world's number one medicinal cannabis supplier" – Greg Hunt, Health Minister of Australia 
"Israel can become an exporter of medical cannabis with an income worth 4 billion shekels (C$900 million) a year." – Justice Minister Ayelet Shaked
Country Specific Outlook
We present a snapshot of countries with significant import or export potential in the next 3-4 years.
Germany
Germany legalized marijuana for medical use in early 2017 and made it mandatory that supply was available through approved pharmacies only. There are an estimated 8,300 patients as of year-end 2017, up from less than 1,000 in January of 2017.
Cannamedical Pharma, one of the leaders in supplying German patients, estimates 30,000 patients will be served in 2018 with imports of 22,000 kg. Germany would need to reach 500,000 patients before import demand would be even 10% of the future Canadian oversupply.
Germany's Institute for Drugs and Medical Devices (BfArM) put out a bid in April 2017 for 10 companies to grow 2,000 kg starting in 2019 and 6,600 kg by 2022. The regulatory framework in Germany was established partly to push off any talk of recreational legalization until four years of clinical trials have been completed on the efficacy of medical marijuana.
Import Potential: SIGNIFICANT
Medical marijuana demand in Germany could ultimately reach 126,000 kg per year, and with domestic production set to grow to only 6,600 kg by 2022, this could be a substantial import market for Canada.
Colombia
The three largest legal producers in Colombia will have 330,000kg of capacity operating by the end of 2019. 
A decree was signed in December of 2015 opening the medical marijuana export market in the country. Government officials in Colombia have commented that the priority is to establish Colombia as a global export player in the commodity market forming around marijuana.
Colombia has a long history of illegal production. The fertile climate and cartel presence drove illegal supply to North America for decades. Colombia is fully supplied domestically and does not import marijuana in significant volumes.
Colombia is emerging as a competitor to legal producers in Canada with the CEO of PharmaCielo, the leader in medical cultivation in Colombia, commenting that he wants PharmaCielo to be a major exporter to markets, moving towards legalization such as Brazil, Argentina, Australia, Germany and even Canada, if regulations allow it.
Import Potential: NONE
The government is pushing to establish Colombia as a major player in the global marijuana export markets. Instead of being a potential source of demand for marijuana from Canada, Colombia could emerge to be one of the largest competitors. PharmaCielo, the first mover in growing medical marijuana in Colombia, says they will have a cost of supply as low as $0.05-$0.10/gram compared to $1.00/gram for Canadian Legal Producers.
Australia
Australia will only import Canadian marijuana until they can establish sufficient domestic supply, which could only be a matter of months.
Australia legalized medical marijuana in February of 2016, but the industry is still in its infancy with only 230 registered medical patients as of January 2018 and sales of less than $1 million a year. Regulations related to medical cultivation are more stringent than in Canada with the government requiring a unique permit for every individual harvest.
AusCann Group Holdings of Australia (owned 11% by Canada's Canopy Growth) is one of the leaders in the emerging medical industry in Canada and has plans to eventually grow their supply domestically, cutting out any need for Canadian imports. AusCann was granted a license to grow domestic cannabis in May of 2017, so will eventually move away from foreign supply deals and begin competing directly with the Canadian marijuana industry.
AusCann intends to establish a growing facility in Australia to eventually supply Australian patients with Australian grown and manufactured medicines. However, until domestic approvals are received, AusCann's medicinal products will be imported from its globally recognized partners. – AusCann press release April 10th, 2017
Import Potential: MODEST
In an absolute best-case scenario where Australia experiences patient growth rates on par with Canada in the last 3 years, and has no domestic supply, there will only be 260,000 medical patients by early 2021, consuming on average 37,000 kg per year or 4.5% of estimated excess production in Canada.
Denmark
As of 2018 Denmark allows medical marijuana to be prescribed, but only to cancer patients experiencing nausea after chemotherapy, patients with sclerosis or spinal cord injuries as well as chronic pain patients. The medical marijuana trial will run for a minimum of four years beginning January 1, 2018 (concluding January 1, 2022). After four years parliament will decide whether to legalize medical, but not recreational marijuana, in the country.
Both Canopy Growth and Aurora Cannabis are building large greenhouses through joint ventures, that when completed will make Denmark the largest producer of marijuana in Europe. The goal of these greenhouses is to sell into other Nordic countries but with total demand from Denmark, Norway, Sweden, Finland and Iceland maxing out at 40,000 kg per year in the next few years the greenhouse production of 170,000 kg is so high it will have to be exported elsewhere.
Import Potential: NONE
Domestic production will far exceed demand. There won't be an import opportunity for Canadian supply.
Portugal
Tilray, a legal Canadian producer focusing on international exports is building 33,000 kg a year of capacity in Portugal by 2020. Demand in Portugal will only top out at 15,000 kg in the next few years so the remaining production will be sold into the EU.
Import Potential: NONE
With domestic production forecast to exceed demand in the next 4 years, there is no import opportunity for legal Canadian supply.
Italy
Italy legalized medical marijuana use in 2007, but the country's parliament failed to adopt comprehensive national regulations. As it stands today, only the military can grow medical marijuana and their supply tops out at 250 kg a year. A government report estimated current medical demand at only 2,000 kg a year.
There are 6 companies holding marijuana import licenses into Italy, but so far, the government is only allowing 100 kg of imports per year.
Import Potential: SIGNIFICANT
Italian medical demand could ultimately reach 89,000 kg (10% of excess capacity in Canada), but the timeline to reach this level of demand is unclear, with a lack of any comprehensive regulations currently in place.
Israel
Medical marijuana use was legalized in 1990 and with 25,000 registered patients, Israel has one of the highest medical demand rates per capita in the world. Medical demand could peak at 14,000 kg a year, but domestic production is set to provide at least 24,000 kg by 2019 and up to 100,000 kg in the next 4 years.
Import Potential: NONE
Israel plans to become one of the largest exporters of marijuana globally with production costs of $0.40-$0.50 per gram compared to $0.80-$1.00 in Canada. There is no import opportunity for Canadian marijuana supply.
How Much International Demand is Needed to Save Canada From Itself?
The Canadian marijuana market will be oversupplied by at least 850,000 kg by the end of 2021. Based on Canadian medical usage rates, the Eurozone and Australia will have to reach 8.2 million patients, or 1.5% of the population in 3 years to absorb the excess supply. Our analysis includes the 320,000kg of estimated supply that will be produced domestically in Australia and the Eurozone.
To put this growth in perspective, 3.5 years after the new medical marijuana laws were put into place in Canada, medical patients are 0.7% of the population and consume ~30,000 kg a year.
International marijuana use will be significant at some point, but the oversupply in Canada is coming too fast for the rest of the world to handle. A commodity market like cannabis that is oversupplied by even 10% could see 50%+ declines in retail prices until producers go bankrupt and the market rebalances. Consumers should rejoice, but Canadian marijuana producers have a tough road ahead.
The opinions provided in this article are those of the author and do not constitute investment advice. Readers should assume that the author and/or employees of Grizzle hold positions in the company or companies mentioned in the article. For more information, please see our Content Disclaimer.