In this deep dive report, Grizzle is taking you through everything Pinterest. What they do, risks and opportunities to the business model, the fundamental price of Pinterest, how to trade the stock on day 1 and much more.
The $25 billion Lyft IPO, which Grizzle covered in-depth, kicked off the 2019 IPO season with a whimper, falling 36% as of Monday from a high of $88/sh on the day of the IPO. Lyft has put a chill on IPO sentiment and the big question will be can Pinterest step in and revive the excitement typical of big company IPOs.
Demonstrating the cautious tone of the IPO markets, Pinterest's bankers chose to offer the stock at $15-$17 per share, valuing the company around $11 billion, down from the company's last private valuation of $12.3 billion.
This compares to Lyft which chose to go public at twice the valuation of the last private funding round. Leaving some value on the table for IPO investors could encourage positive sentiment and ensure upward stock momentum out of the gate.
Operational Review – Does Pinterest Make Money?
Looking at the last few years of financials, Pinterest has been making good progress on scaling into its cost structure. In 2016 the company lost $0.60 for every $1.00 of sales, but by 2018 had cut the loss to $0.10 while also garnering a small profit in the fourth quarter after a strong holiday season.
Pinterest Revenue and Margins
Comparing the cash burn to competitors, Pinterest is losing less money than Snap and Twitter in the year prior to their IPOs, but results are a far cry from Facebook and Google who were soundly profitable before and after the IPO date. We are forecasting the company can grow net income margins to 13% longer term.
 Net Income Margin Before and After IPO
How Pinterest Thinks about Buyer Behaviour
Pinterest, like many other companies who rely on advertising, classifies consumer behaviour into a funnel with three stages.
Awareness – Consumers are browsing the internet for ideas but are not close to making a purchase or starting to compare items for a potential future purchase.
Consideration – Consumer is starting to refine and organize items for a potential purchase down the road. This is the step where consumers are considering what to purchase and comparing different brands.
Sales – This is the final stage when the consumer pulls the trigger and buys one or more of the pinned items.
The first stage of the funnel is the most important and is where advertisers are spending the most time and money. Successfully reaching the consumer when they are still undecided on what brand to purchase is the best way to grow sales and brand awareness.
Advertisers have historically struggled to figure out which part of the funnel a consumer is in at any one time, allowing them to tailor the type of advertising shown.
If Pinterest can help advertisers classify where each consumer is in their purchasing decisions, they will stand out from other crowded advertising offerings.
In filing documents, Pinterest made clear that leveraging predictive computer modeling and big data to forecast consumer behaviour will be a priority moving forward.
The Heart of Pinterest – Visual Search
While on the surface Pinterest may seem like yet another social network, the real differentiator for Pinterest is its search capabilities.
Pinterest likes to refer to these capabilities as "discovery" as users are on a path toward being inspired and finding related images primarily for food, fashion, and design.
What makes Pinterest search interesting both for users and advertisers is that many times users are not looking for a specific result, but rather similar items or items that will match well with the item being searched.
Advertisements blend in more naturally among similar results rather than very focused search results.
This approach allows users to discover or be inspired by other ideas that may eventually land them on an advertisement that's completely unrelated to the initial search.
Complementary product placement among results is more reminiscent of a physical shopping experience where users browse through displays or racks of items that match well together.
One of the key technologies Pinterest uses to create this user experience is visual search.
Visual search is often mentioned as one of the up and coming search technologies alongside voice search.
The growth of voice search has been well-documented and many view it as a key growth segment for digital advertising.
However, visual search also holds promise as an advertising channel and is a category where Pinterest is a leader.
What is Visual Search?
Put simply, visual search is the ability to take an image, identify objects, and the characteristics of those objects within that image to provide relevant results.
Visual search is not the same as searching in Google images where one is forced to describe in words the search term.
Rather visual search uses sophisticated computer vision techniques to determine the content and context of an image and return results relevant to those content and context.
User-Generated Content and Machine Learning – Perfecting the Mouse Trap
But the power of Pinterest lies in more than how they use their impressive visual search technology. It is in how they combine that technology with other inputs and data to provide relevant content to users which keeps them engaged and inspired.
Users not only provide content for Pinterest, they also help curate all of the images by adding images to collections called boards. The way users describe their boards and what images are incorporated into a given board provide Pinterest's search algorithms with critical metadata that help to identify what's important to users about an image.
In addition, users can combine a visual search (picture input) with text that is used in an image search to provide yet another aspect to refine search results. Combining all those aspects together allow Pinterest to nail down relevant results for the user.
Given the wide array of inputs and the focus on continuing to develop machine learning techniques, Pinterest is refining and improving both organic and ad use cases on their platform.
Pinterest is serious about continuing to refine its technology and search capabilities too.
They spent over $250 million on Research and Development (R&D) in 2018, over a third of revenues.
With these levels of R&D spend and content from 265 million monthly users, 2 billion monthly searches and 175 billion pins, Pinterest is building one of the most intriguing visual discovery platforms on the web. Whether or not they can effectively monetize this platform is the big question.
Pinterest from the Advertisers Point of View
Pinterest does have one ace up its sleeve and it's the conversion rate. Ads on Pinterest convert to product clicks at almost double the rate of other platforms.
At the end of the day, Pinterest must convince companies to spend money advertising on its platform instead of Snap, Facebook, Google, or others.
If Pinterest can't provide advertisers with a differentiated platform that gets results, it will struggle to capture more than 1-2% of digital media advertising spend, compared to 20% and 43% for Facebook and Google.
Pinterest currently offers fewer ad targeting options and ad formats than competing platforms who have been in business for far longer. Pinterest is only four years into monetizing users, while Facebook had 9 years of experience by the time it went public.
To make up for this shortcoming, Pinterest commented in their filing statement that the current focus is on creating more ad creation tools for independent advertisers that lack an in-house ad creation team. The company is also rolling out more advertising formats like video and increasing ad targeting options.
All of these improvements are critical if the company is to continue increasing revenue generated per user.
Conversion Rate is the Secret Weapon
Pinterest does have one ace up its sleeve and it's the conversion rate. Ads on Pinterest convert to product clicks at almost double the rate of other platforms, according to the CMO of Publicis.
It is now well known that Pinterest is basically a shopping site, not a social media platform. Pinterest's core verticals of food, home, beauty, and fashion are high conversion search topics.
The problem for Pinterest is its smaller user base means conversions only translate into small amounts of traffic for the retailer. If Pinterest wants to truly leverage the conversion advantage it will need to grow user numbers significantly so larger retailers start to take the platform seriously.
The Failure of Buyable Pins
The holy grail of visual search is to create a seamless experience for the customer to go from discovery to purchase. All of the big players are trying to provide the easiest path from visual search to purchase, but none have got it right so far.
Pinterest's first attempt to improve the shopping experience came in the form of buyable pins, which launched in 2015.
Buyable pins allowed users to directly purchase the pinned item without leaving Pinterest. However, this feature was discontinued in the fall of 2018, showing that without a critical mass of advertisers and users it was impossible to convince enough retailers to give up the purchasing and behaviour data they were losing by letting the purchase happen all on the Pinterest platform.
The failure of buyable pins shows us that if Pinterest can't grow into a much larger platform with negotiating power over advertisers it could fail to become a viable advertising platform.
Competitors are Already Hot on Pinterest's Heels
Facebook-owned Instagram just launched Instagram Checkout, a copy of buyable pins, also letting users purchase a pictured directly on Instagram. The main difference this time around is Instagram is a much larger platform with 1 billion monthly active users compared to Pinterest's 265 million.
In the U.S. alone, Instagram went from a smaller platform than Pinterest in 2016 to one with 1.6 times the monthly active users by the middle of 2018. If Instagram gains the leverage to convince advertisers to settle for in-app purchases en masse it could spell the end for Pinterest.
Facebook created Instagram stories directly as a result of Snap's My Story feature and it basically killed Snap's growth. Pinterest must crack the code on visual search while rapidly capturing new users at the same time to avoid Snap's fate. We think this is a tall order and is the biggest single risk facing the stock.
Popularity of Social Platforms
User Growth vs Peers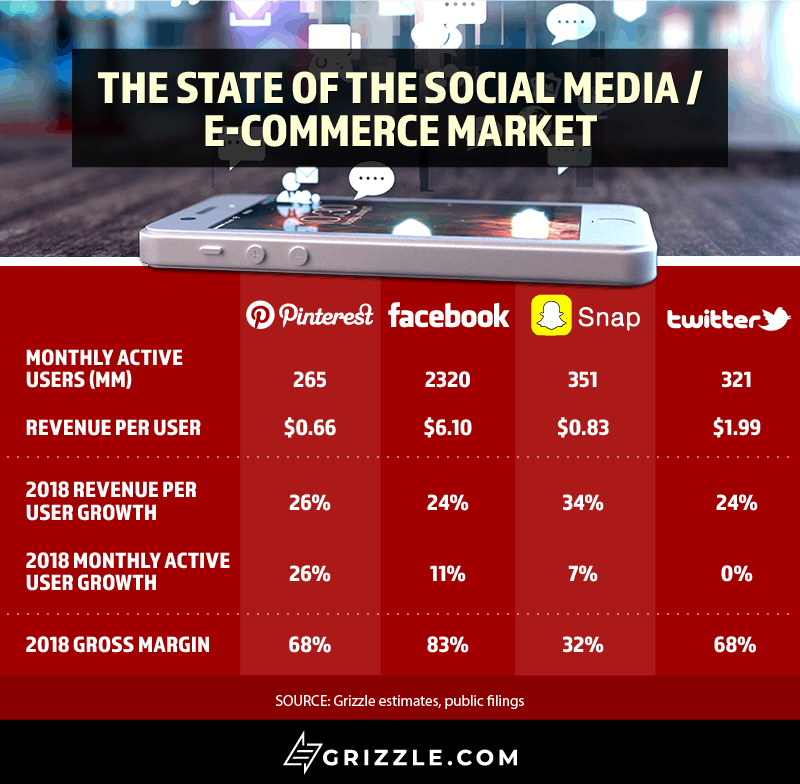 We think it is best to look at Pinterest and competitors before and after IPO. Not all companies are in the same stage of growth today so looking at the latest results for each company is not a fair comparison.
Pinterest is on a similar user growth trajectory to Twitter in the three years prior to its IPO. The founders have chosen slow and steady growth compared to competitors like Snap where founder Evan Spiegel preferred to raise and burn lots of cash and grow as fast as possible.
With the benefit of public market financing, we expect Pinterest will ramp up advertising leading to faster user growth in 2019 and 2020. User growth for both Snap and Twitter hit a plateau only two years after their IPOs and Pinterest will likely see the same fate unless it can create more engaging social features and localize Pinterest for the massive international audience.
Yearly Users Before and After IPO
Fundamentally, Pinterest isn't worth more than $8.00/sh
We prefer to value the company using two methods, fundamental and market-based. From a fundamental perspective, we were unable to arrive at a stock price above $8/sh without assuming Pinterest goes on to become a digital media juggernaut or finds a way to bring down costs far below competitors.
An $8.00/sh price includes very strong user and revenue growth, besting historical results for all social media platforms except Facebook.
We struggle to justify a higher share price as it would imply Pinterest disrupts Facebook and Google's hold on online advertising, a long shot in our view based on recent history.
At the $16.00/sh IPO price Pinterest has no fundamental support and will likely be volatile as it trades on an ever-changing multiple of revenue determined by the market's current boom or bust mentality.
Discounted Cash Flow Model
| | |
| --- | --- |
| DCF Value | $4,042 million |
| (-) Debt | $151 million |
| (+) Cash | $1,677 million |
| Market Cap | $5,568 million |
| Shares | 689 million |
| Price per Share | $8.08 |
We assume Pinterest sees accelerating user growth from its current trajectory, surpassing the user numbers of Twitter and Snap, but falling well short of Facebook's user base.
Global User Growth Forecast*
We assume user growth in the U.S. accelerates after IPO as the company is still in the early stages of its advertising offering.
Pinterest continues to show more sustained growth than Snap and Twitter but again reaches saturation relatively quickly.
The company says it already reaches 83% of women in America, the company's most important demographic.
U.S. User Growth Forecast*
International user growth is robust but begins to slow once the company matches Twitter's international user base. We assume growth continues longer term and does not flatline like Twitter.
International User Growth Forecast*
We assume total revenues per monthly active user accelerate and end up tripling the rate of Snap and doubling the rate of Twitter by 2028.
Global Average Revenue Per User Forecast
Our assumption is that U.S. revenue growth per user starts to decline in 2020 but exceeds all competitors except Facebook.
U.S. Average Revenue Per User Forecast
International revenue per user sees a massive improvement, increasing from $0.09 in 2018 to $1.00 by 2023.
Growth continues at 20% a year, matching Facebook's current international growth trajectory.
International Average Revenue Per User Forecast
Stock is Fairly Valued at the IPO Price Based on Market Multiples
The discounted cash flow method helps provide you with a long-term stock price anchor to determine if a company is overvalued or undervalued at any one point in time, however, we prefer using market multiples as it is a more realistic view of how the stock will actually trade at this point in the market cycle.
If Pinterest goes public at $16/sh the $11 billion valuation will be ~15x 2018 sales, significantly lower than the multiples of Facebook, Twitter, and Snap at their IPO debut.
The price of any stock is a combination of a cashflow measure (revenue, EBITDA, net income) times a multiple. Multiples are always on the move and reflect the market's mood. Historically the price to sales multiple of tech companies fall by 18% a year from the date of the IPO.
High tech IPOs are generally valued on a price to revenue basis when they are young, so as long as Pinterest can grow revenue faster than the multiple is decreasing, the market price of the stock should be going up.
The problem we see for Pinterest is after a few years of strong growth due to a ramp-up of advertising, revenue growth begins to slow, falling below the decrease in the multiple.
If Pinterest manages IPO expectations correctly, the stock could trade higher over the next year or so as revenue growth accelerates, but over the long term, slowing revenue growth coupled with a falling multiple leave little upside for investors.
There is an additional risk that investors sour on Pinterest, driving the multiple down faster than 18% a year.
Snap's price to sales multiple is falling 50% a year due to flatlining growth and competitive troubles with Facebook, while Lyft's multiple is already down 21% only 12 days after the IPO.
Potential Stock Price Trajectory
Historical Performance of Underpriced IPOs is Concerning
The historical performance of IPOs priced below their last funding round is not encouraging. Since 2014, all of the 10 companies that IPOed below their final private funding round traded lower, by 19% on average, over the coming twelve months.
Who Owns Pinterest Stock and at What Price
Understanding who the holders of Pinterest stock are and what their potential motivations may be is critical when figuring out the right time to buy or sell.
To start let's look at the history of capital raises. Pinterest did 11 financing rounds prior to the IPO at prices between $0.01 and $21.54.
Historical Funding Rounds and Notable Investors
On average pre-IPO shareholders have a cost basis of $4.76 compared to the expected IPO price of $16/sh. They are sitting on big gains and will be looking to lock in those gains once the share lockup expires later this year.
| | | | |
| --- | --- | --- | --- |
| Funding Round | Shares Issued | Value | Value/Share |
| Seed 1 | 41,075 | $493 | $0.01 |
| Seed 2 | 32,856 | $895 | $0.03 |
| Seed A-1 | 4,754 | $550 | $0.12 |
| Seed A-2 | 61,606 | $10,471 | $0.17 |
| Seed B | 37,772 | $27,105 | $0.72 |
| Seed C | 21,426 | $100,000 | $4.67 |
| Seed D | 30,838 | $200,000 | $6.49 |
| Seed E | 25,807 | $225,000 | $8.72 |
| Seed F | 19,625 | $200,000 | $10.19 |
| Seed G | 25,649 | $552,388 | $21.54 |
| Seed H | 6,965 | $150,000 | $21.54 |
| TOTAL | 308,373 | $1,466,902 | $4.76 |
Pinterest will issue 86.2 million shares in the IPO, representing a public float of 16%.
The public float represents the shares that are freely tradeable on an exchange and can have a big impact on early trading performance.
The lower the public float the better chance the shares perform well all else equal.
Pinterest Share Lockup Key Dates
There are two major share milestones IPO investors need to be aware of.
31 days after the filing of the prospectus (March 22) a further 6% of shares will unlock to allow investors to pay taxes related to the IPO.
181 days after the filing of the prospectus, September 19, 2019, the remaining insiders will be free to sell their shares into the open market.
Historically, periods around share unlocks lead to short-term selling pressure and falling share prices.
IPO investors need to keep this in mind if they are looking for a short term trade and do not plan to hold the shares longer term.
Pinterest Share Ownership
Looking at share ownership, the stock is owned by a who's who of some of the most prominent venture capital firms and well-known investment managers.
Share Ownership Split
Pinterest Share Structure
Keep in mind IPO shareholders have almost no say in how the business is run due to a dual share structure where the class B shares hold 20 votes to the 1 vote held by your class A.
The founders and early investors loyal to the company effectively own all the voting rights so you as a public shareholder are just along for the ride, which introduces governance risks.
Most Silicon Valley companies are setting up this share structure making it quite common but no less concerning.
Voting Split between Class A and Class B Shares
So What Should I Do With This Stock?
Our expectation of slowing growth and fickle market sentiment after the disastrous Lyft IPO make us cautious on this stock.
We think Pinterest is at the cutting edge of visual search and runs a platform with class-leading conversion.
However, engagement significantly trails peers and the company operates in a fiercely competitive industry where the two largest platforms control most of the market and will not give up market share quietly.
Even if Pinterest can carve out a chunk of the digital advertising market for itself and become a sustainable business, that still will not be enough to justify the lofty IPO valuation.
Our expectation of slowing growth and fickle market sentiment after the disastrous Lyft IPO make us cautious on this stock.
If the stock increases from the opening price on the first day of trading (Thursday, April 18) we would be buyers to play a short-term trading pop.
Looking at the stock as a long-term investor, we would wait for confirmation that competing products from Instagram are not killing Pinterest's growth, before buying the stock anywhere below $10.00/sh.
Comparative Company Metrics
| | | |
| --- | --- | --- |
| | MAU 2018 (Million) | Rev/MAU |
| Facebook | 2255 | $6.09 |
| Twitter | 330 | $1.99 |
| Pinterest | 247 | $0.76 |
| Snap | 354 | $0.84 |
Implied Value of Pinterest Based on Comparables
Mkt Cap ($BB)
Mkt Cap /User
Price /Rev /User
2018 Rev Growth
Facebook
501
$222
37x
38%
Twitter
27
$81
41x
24%

Pinterest

8

$33

43x

60%

Snap
16
$44
53x
43%
Average
(Ex PINS)
$116
43x
41%
If you liked our coverage of the Pinterest IPO, check out what we're saying about Slack's direct listing.
About Author
The opinions provided in this article are those of the author and do not constitute investment advice. Readers should assume that the author and/or employees of Grizzle hold positions in the company or companies mentioned in the article. For more information, please see our Content Disclaimer.