Grizzle strategist Chris Wood lays out all the reasons why China's equity market is looking like a solid bet. Less money printing than the west and much lower virus infection rates mean a better outcome for investors.

For the first time, medical flower grown outside of Canada or the Netherlands is available to German patients. Competition is now officially heating up in Europe's largest cannabis market. Canada's growers won't be able to rely on growth in Europe to bail them out of a massive oversupply at home.
This is a curious deal considering Israel is already well supplied with locally growth cannabis. Israeli producers are falling all over themselves to export, not import which is why this deal raised our eyebrows. 3,000kg over two years is not very much so this likely is more an exploratory agreement than Aphria truly making a splash in Israel.
Mature cannabis markets Washington, Colorado and Oregon have seen a bump in sales this year. The data seems to indicate the new sales are driven by black market users switching to the legal market. Fears around the spread of COVID-19 are benefiting online ordering and curbside pickup operations. This black-market conversion helps but longer term the legal market needs to compete on price while providing more variety and educating consumers on the health benefits of legal cannabis to fully win over consumers.

Apple generally takes 30% of revenue earned on its app store. Gaming apps throw a wrench in the works because they offer access to in-in game purchases, essentially bypassing Apple's 30% requirement. This explains why Apple is fighting Facebook and Microsoft's gaming apps. They will likely have to settle for less due to the negotiating leverage these huge company's have. The outcome of these negotiations will set the tone for Apple's ability to monetize game streaming services in the future.
The correction is software stocks is finally here. Multiples have run up so much, its healthy to see them come back down closer to long term levels. As a group stocks are still barely off all-time highs so there is likely more under performance to come. We are nibbling on the higher growth names and will keep adding if they keep falling as the stocks are strongly positioned over the next 3 years. Look for a 20x price/sales multiple or less for high-growth names, down from a recent peak of 40x-50x.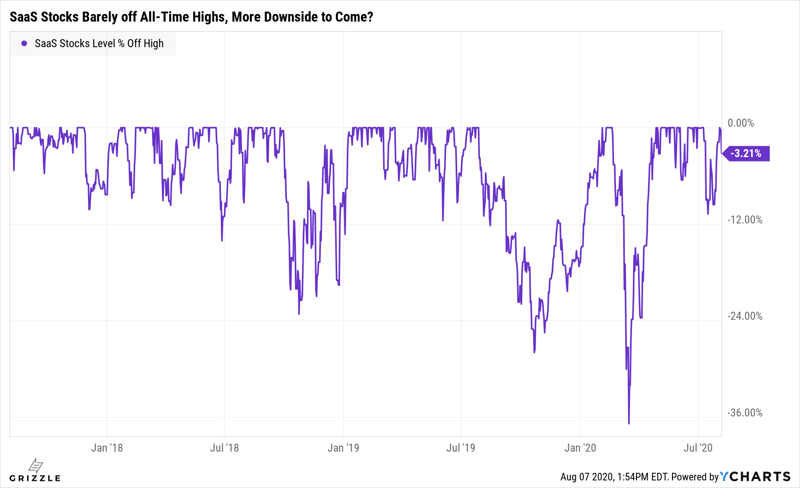 When Saas Stocks are tanking even when they give guidance that exceeds expectations, it was inevitable Alteryx was going to crash the minute management gave guidance below consensus.
Another company with solid earnings but a cautious tone on the advertising market over the next 6-12 months.

Understand why Twilio and most other SaaS stocks fell after earnings this quarter. We take you through some key charts and get you up to speed in only 2 minutes!
Pinterest had a monster quarter with the stock up 36% in one day. We explain why we've now flipped from thinking the stock is overvalued to buying a bit and looking for more good news.
U.S. regulators just opened the doors to movie studious buying theater chains. AMC is a prime takeover candidate now in our opinion. This stock is no longer a good short.
TO SHARE GRIZZLE'S TOP INVESTING INSIGHTS WITH FRIENDS & COLLEAGUES.
The opinions provided in this article are those of the author and do not constitute investment advice. Readers should assume that the author and/or employees of Grizzle hold positions in the company or companies mentioned in the article. For more information, please see our Content Disclaimer.