The Canadian cannabis sector was absolutely savaged in 2019 as fundamental issues with demand and sky-high expectations from retail investors collided.
With the hot air largely out of Canadian cannabis stocks by year-end, investors started buying many of the beaten-down names in early 2020 expecting the next few months to be the bottom before a multi-year uptrend began.
Things haven't worked out as expected so far and with the release of new data from Health Canada, we now know why.
Canadian cannabis stocks are facing significant headwinds as they try to break-even and generate the profits they need to bring burned investors back to the sector.
Follow along and learn why.
Canada Potstocks Still Putting up Disappointing Returns in 2020
Earlier this week Health Canada finally updated estimates for the volume of legal cannabis sold monthly.
Due to COVID-19 dislocations, this data previously hadn't been updated for over six months.
Now that we have a clearer picture of both prices and volumes, the disappointing stock performance this year makes a lot of sense.
Looking at units of dried cannabis sold (purple bars) we can see demand has basically flatlined for the last five months.
This is not a good sign for a market that is only a year and change old.
Management teams told us the legal market was going to replace the black market before you could blink.
Now we are a year and six months into legalization and 2/3rds of consumers are still buying from their "guy".
Another bad sign is the steady creep upwards of dried cannabis inventory.
The industry was already drowning in "ditch weed" last year, and the mismatch between supply and demand seems to only be getting worse in 2020 in Canada.
Dried Cannabis Sales vs Inventory
Though market data is mostly doom and gloom there are some rays of light peaking through the clouds.
Looking at sales of newly released edibles the growth picture is much better.
To move the flower sitting in inventory producers have to cut prices which leads to inventory writedowns, bad for the value of the company, and less profit, bad for the cash balance.
Edible units sold have doubled in the last two months.
So the legal market is still growing, but not all products are selling.
This is a problem when licensed producers are sitting on such massive quantities of dried flower.
To move the flower sitting in inventory producers have to cut prices which leads to inventory writedowns, bad for the value of the company, and less profit, bad for the cash balance.
Edible Sales vs Inventory
The inventory picture for edibles is also getting ugly.
It looks like edible inventories are about 4-5 months of sales.
Normal businesses carry 1-3 months of inventory, so already the edibles market is oversupplied.
As we've seen in every legal U.S. state, edible prices are going to fall and they will fall significantly. 
Edible Price Trends in Two Legal Cannabis States
What Does All This Data Mean?
Canadian cannabis investors have been severely burned with stock prices down 50%-90% over the past year.
But just because the stocks are cheaper than they were, it doesn't mean they will go up anytime soon.
For the stocks to make investors money and stack up as worthy investments vs other parts of the stock market one or both of the following needs to happen:
Sales growth needs to accelerate
Company's need to make money.
The stocks are still not cheap vs the estimated revenue for 2020 so they could easily go nowhere while a price war rages in Canada.
Forward Price/Sales Ratio
Yes retail cannabis sales are growing, but because prices are falling at the same time, many producers are still struggling to generate profits.
Recreational Cannabis Sales in Canada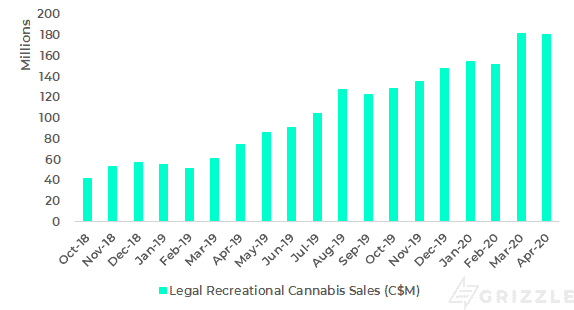 The entire industry is still running out of money and with margins falling at the same time, producers are going to struggle to grow profits.
Investors are unlikely to see sustained stock price gains until the industry finds its footing.
With recent sales data painting an ugly picture, investors should ignore the Canadian cannabis market for now and focus on U.S. producers.
In the U.S. the top five producers by market share are Curaleaf (CNSX:CURA), Trulieve (CNSX:TRUL), Cresco Labs (CNSX:CL), Harvest Health (CNSX:HARV) and Green Thumb Industries (CNSX:GTII).
The U.S. market hasn't even legalized the drug yet which means there is a huge catalyst still to come.
In Canada, the hype train already derailed and every company has to put up real numbers to drive stock prices any higher.
With much better opportunities all over the stock market, don't be the sucker who remains stuck in a challenged industry.
We here at Grizzle will ring the bell when its time to jump back into Canada, but in the meantime there are much better opportunities elsewhere.
Disclosure: The author has no position in any of the stocks mentioned in this report except for a long position in Cresco Labs.
The opinions provided in this article are those of the author and do not constitute investment advice. Readers should assume that the author and/or employees of Grizzle hold positions in the company or companies mentioned in the article. For more information, please see our Content Disclaimer.