Papa John's International (NASDAQ: PZZA) has posted their report for Q4 2019.
Revenue for the quarter was $417.51M which beat analysts' estimates of $403.74M
EPS was $0.37 which beat analysts' estimates of $0.32
Overall the stock has performed well in the past year, increasing over 50% since the same time last year. However, zooming out to a 5 year look we see that the stock price has been somewhat volatile and took a huge dip back in 2018. Despite its recent marvelous run up, the stock has still not hit its previous 5 year high of around $88/share
Who Knew Pizza Could Be So Controversial?
Papa John's recent problems began at the end of 2017 when it was becoming clear that the company was losing out to competitors like Domino's and Little Caesars who were rapidly expanding their speed and delivery capabilities while lowering costs. Papa John's had opted to compete on quality rather than price and speed, but this strategy has not worked out well for them. When it comes to pizza, it appears that consumers generally prefer lower prices rather than absolutely the best quality, and what is considered best quality can be highly subjective and it is arguable whether or not Papa John's quality is indeed better than Domino's.
It didn't help when Papa John himself, the founder and then-CEO of the company, John Schnatter landed himself in controversy when he blamed Papa John's declining sales on the supposed declining viewership of the NFL, the truthfulness of this claim is also highly debated.
For context, Papa John's had been the official sponsor of the NFL which was a lucrative deal for Papa John's. History has not proven to be kind for those who bite the hand that feeds them, and the NFL dropped Papa John's as a sponsor. Schnatter's controversy did not end there. It was reported that he used the n-word during a conference call, and his active political opinions in support of President Donald Trump and opposition to NFL players kneeling during the national anthem did not earn him any favors in mainstream social media who typically disapproves of President Trump's administration, and got the company unnecessarily tangled in politics. These controversies would end up getting Schnatter kicked out of the company that he founded.
The Big Comeback
New management has been trying to implement a comeback strategy at Papa John's and so far it seems to be working. The company is emphasizing delivery more and has introduced new products such as different varieties of pizza.
However, Papa John's is still playing catch-up to Domino's who has invested heavily into the tech space with their online Pizza Tracker which was the first tool of its kind back when it was first introduced in 2008. Although at first it seems like a gimmick, the Domino's Pizza Tracker helped them cement the idea that Domino's was hip and high tech and formed an impression in the consumer's mind.  Papa John's has seemingly finally recognized the need to be technologically enabled and has leveraged numerous third-party delivery apps to help expand its delivery operations. This is in stark contrast to Domino's strategy of exclusively relying on in-house delivery solutions instead of food delivery apps. It remains to be seen which strategy will work out better in the long run as both strategies seem to be going well at the moment.
Valuation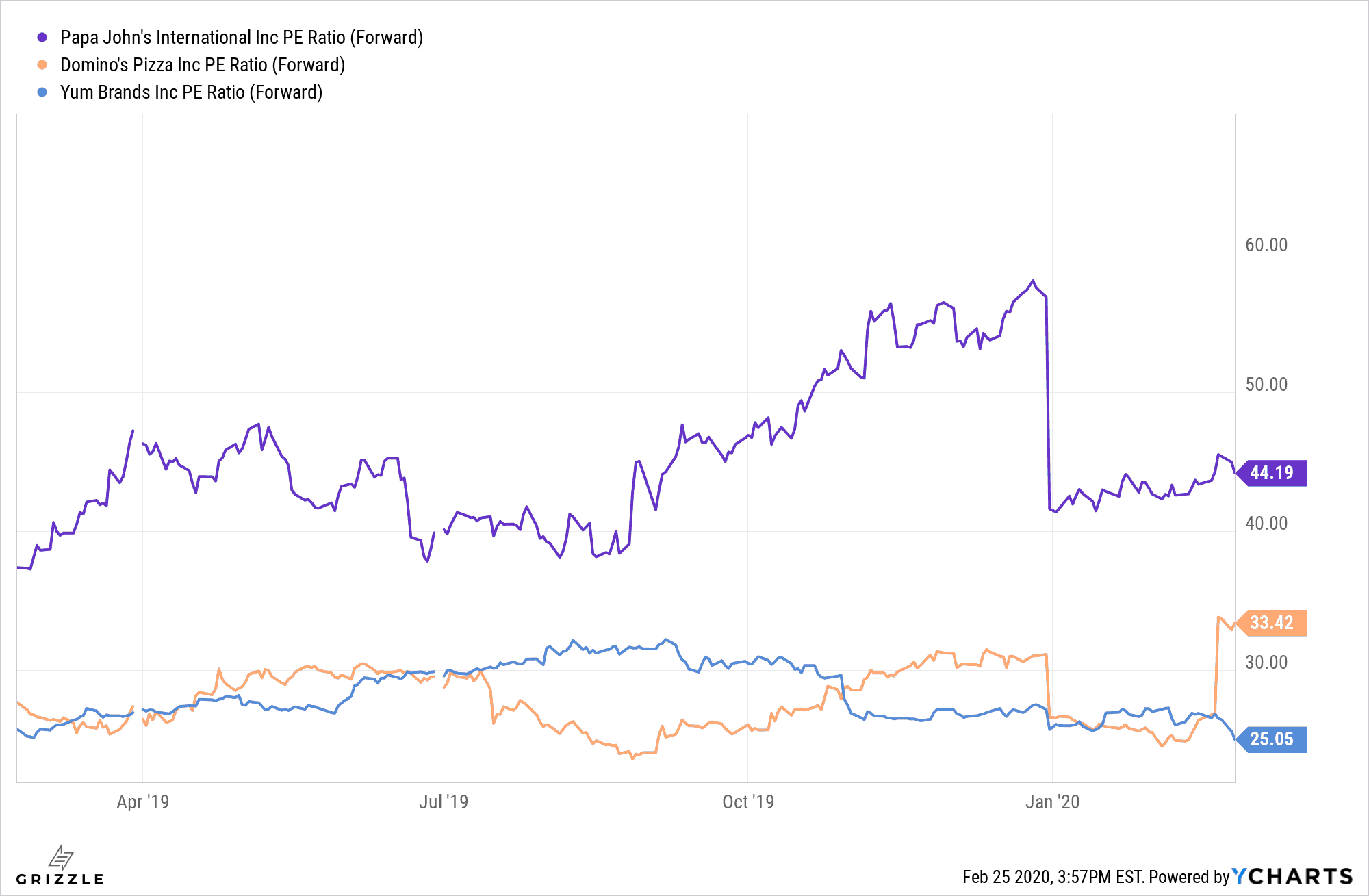 Investors seem to be convinced of Papa John's comeback as the forward P/E ratio seems very high for a restaurant company, coming in at over 40. At these levels, Domino's may be a better buy as they trade with a lower P/E with an estimated sales growth of 9% for 2020 versus Papa John's 2.4% revenue growth for the same time frame.
At these levels it's hard to justify why anyone should buy Papa John's stock unless one really believes that their comeback plan will be executed perfectly.
About Author
The opinions provided in this article are those of the author and do not constitute investment advice. Readers should assume that the author and/or employees of Grizzle hold positions in the company or companies mentioned in the article. For more information, please see our Content Disclaimer.