Grizzle Strategist Chris Wood analyzes the flurry of executive orders against China. Will they all be reversed if Trump wins a second term? Also with Biden's lead narrowing as COVID cases fall, the election is turning into a one-issue race.

Once again Aurora cannabis is in trouble. When you owe $470 million of debt but only have $120 million of cash what do you do? Flood the market with more stock. See why Aurora's stock price is going lower.
This week Village Farms announced it is buying the remaining stake it does not own in Pure Sunfarms, the lowest cost greenhouse grower in Canadian cannabis. In this article Grizzle looks at why Village Farms was willing to pay a premium and most importantly, what is the major risk that could derail the potential of this deal.
The number of banks willing to service cannabis businesses has been declining in 2020, but COVID-19 issues could largely be to blame. FinCEN takes a bank off the list if they fail to file a certain report after 90 days even though many banks take 180 days to file. Stepping back a bit, passage of the STATES act is what would really open up the full array of banking services to the U.S. cannabis industry. Otherwise it will be slow going with bank executives gradually growing more comfortable working with a partially legal industry.
Colombia has been one of Latin America's worst head fakers when it comes to cannabis. The regulations are so confusing and onerous that revenue growth in the country has disappointed even the most pessimistic forecasts. Yes there is a bill making its way through the government to legalize recreational cannabis but it is only on number 1 of 8 debates required to move the bill along. The political will to legalize narcotics in a country already plagued by them is low.

Yet another correction is here for SaaS stocks and this one looks for real. Now that we know chief technology officers are keeping their wallets tightly closed with all the COVID related uncertainty, the run up in many of these stocks was not justified. While investors worry about when the next stimulus bill is coming, we expect all but the best software stocks to under-perform the S&P.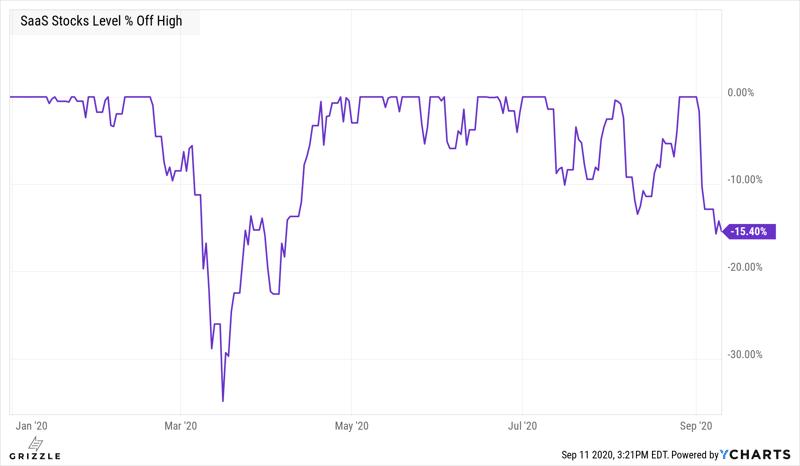 The functionality basically allows landlords to check in with residents virtually. There are legitimate use cases for this but allowing a landlord to both hear and see what you are doing in your apartment without your consent sounds like a privacy nightmare. Amazon needs to make sure that a bad apple landlord can't take advantage of wiggle room in the functionality to take advantage of tenants.
Warren Buffet is finally dipping his toe into the white hot software as a service (SaaS) sector after decades of calling tech overvalued. His backing of soon to be public SaaS stock Snowflake almost assures this is one of the hottest IPO's of 2020. This is a huge vote of confidence in the sector and especially the stock with Buffet paying 34x next years sales for Snowflake (The expected IPO price of $80), a premium multiple. Buffet thinks Snowflake is his best chance of making money in tech and doesn't mind showing a market to market loss in the medium term if tech multiples cool off in the next few years. We think Snowflake easily hits $100 or higher on the first day of trading.

 u
Tesla's 60% move off the back of the stock split announcement is now a distant memory, with the stock correcting 34% in the past two weeks. Now that the euphoria is gone, whats next for Tesla?
The recent performance of bitcoin vs gold has made it clear to us that investors think of bitcoin as a risky asset akin to stocks. We think this mentality makes both bitcoin and silver compelling catch-up trades as the price of gold continues to rise. Both assets will outperform gold on the upside.
First Majestic has been a big silver dud YTD, underperforming the silver miner's ETF by 45%! Sprott's big bet is the catalyst. First Majestic has above average exposure to silver yet trades at a discounted multiple. We will follow along with the legendary metals investor on this one.
About Author
The opinions provided in this article are those of the author and do not constitute investment advice. Readers should assume that the author and/or employees of Grizzle hold positions in the company or companies mentioned in the article. For more information, please see our Content Disclaimer.