Today 48North Cannabis (CVE: NRTH), a vertically integrated cannabis leader, announced positive third-party laboratory test results from its inaugural outdoor cannabis harvest.
The cannabis showed high levels of THC and CBD and tested negative for any microbial contamination.
Given that this is 48North's first outdoor harvest ever, 14% THC content is an outcome any grower should be happy with.
The lack of microbial contaminants such as mold was also a huge win for the company as they can now sell the flower directly to consumers without having to irradiate it, which some think kills the flavour profile and quality of the cannabis.
Some purists may argue that 14% THC is disappointing compared to indoor flower at 18%-24% THC but if you include the cost-benefit as well, we think it's clear outdoor is here to stay.
48North's outdoor flower had 30% lower THC levels than indoor but was grown for 90% cheaper. On a cost per mg of THC basis, outdoor flower is still 80% cheaper to grow, making it a no brainer for any licensed producer.
With the outdoor producers set to plant at least 350,000 kg in 2020, more than twice current demand, outdoor cannabis is going to upend the cost curve for the entire Canadian cannabis market.
Producers growing average cannabis for an average cost are in for a world of hurt in this brave new world.
Summary of the 2019 Outdoor Harvest Results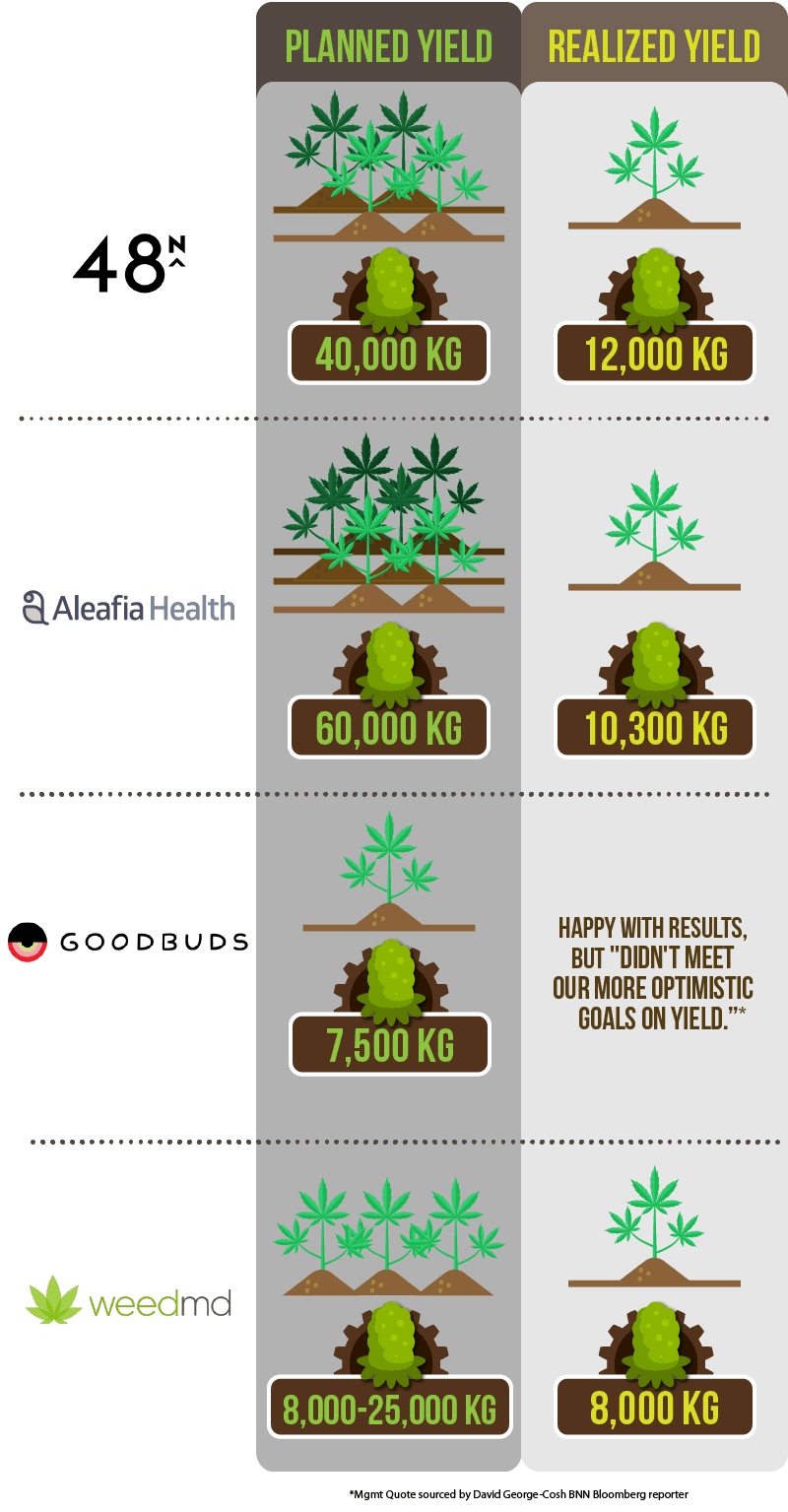 Independent tester A&L Canada Laboratories found that the four cannabinoid rich strains (Nepal Lights, Mountain Kush, Lemon Haze, and Green Crack) had a weighted average THC content of 14% and a range of 11% to 19%.
It also concluded that the Good:Farm biomass was characterized by greater cannabis level variation with a range of 2% to 15% and a weighted average of 12%.
High-Quality Yield to Supply Next Generation Products
The company had previously announced that its first outdoor harvest at Good:Farm met production cost targets making 48North one of the lowest cost cannabis producers in Canada. It also noted that this year's harvest would allow it to fulfill its supply agreements with provincial wholesalers in Alberta, Ontario, and Quebec.
Good:Farm is a sprawling 100-acre organic cannabis farm that has enjoyed a first-mover advantage in the low-cost, next-generation cannabis industry.
Wholesalers will start selling 48North's next generation of vapes and topicals in the early part of the new year.
This will include the Avitas vaporizer cartridge, Apothecanna topical products, and Mother & Clone sublingual nanosprays.
Through its partnership with humble + fume, 48North forecasts that it will hold roughly 10% of a fast-growing Ontario vape market that is expected to reach up to $600 million by 2021.
Low Cost Outdoor Production to Drive Industry Pricing
Despite the far weaker than hoped for yields, outdoor harvesting is likely to play a key role in the development of the cannabis market over the next few years.
Outdoor cannabis production has been under the microscope in recent weeks following company earnings reports that included disappointing realized yields.
Management at 48North for one offered a lofty outlook for its planned dried cannabis yield to the tune of 40,000 kg this year, only to see its realized yield fall 70% short at 12,000 kg.
Similar high magnitude shortfalls have been witnessed at Aleafia Health, Goodbuds, and WeedMD.
Despite the far weaker than hoped for yields, outdoor harvesting is likely to play a key role in the development of the cannabis market over the next few years.
Industry players are not scaling back outdoor production plans but in fact appear to be going full steam ahead with at least 350,000 kg of cannabis scheduled for planting next year.
This is because outdoor potency levels (14%) aren't far off from indoor potency (18% to 21%), and more importantly outdoor growing costs are substantially less.
A $0.25 production cost per gram at 48North, for instance, represents a huge operational advantage when compared to costs of around $1.00-$2.00 for greenhouses.
The significant cost benefit strongly supports the notion that outdoor cannabis has some serious staying power and that it will likely evolve into a bigger portion of overall cannabis supply as the industry continues to grow.
The opinions provided in this article are those of the author and do not constitute investment advice. Readers should assume that the author and/or employees of Grizzle hold positions in the company or companies mentioned in the article. For more information, please see our Content Disclaimer.