The Quick and Dirty
Cloudflare provides a useful suite of services that any global website owner needs.
Keeping a website secure saves money, while speeding it up makes money. The sales pitch for Cloudflare is solid.
From a competitive point of view, Cloudflare is smaller than industry juggernaut Akamai, but gobbling up market share like public peers Fastly and ZScaler.
We really like the company's industry position, growth rate and margins, but at the IPO price of $14/sh, this is a stock already priced for good times.
We would not go anywhere near the stock above $18, but would jump at the chance to build a position at or below $7.00/sh.
Cloudflare is an example of a great company already priced like a great company.
A buying opportunity will come, investors just have to be patient.
Competitive Position is Solid
Cloudflare offers a wealth of services compared to a peer like Zscaler who specializes in only one service, web security.
Cloudflare offers a similar suite of services to industry giant Akamai, but has less market share of large enterprise clients.
The company is focusing sales efforts on converting free customers to a paid tier and increasing the share of customers who pay more than $100,000 a year.
A Deep Suite of Products
Cloudflare's free tier has made it very popular with developers, individuals, and small websites.
Looking at revenue growth over the last few years, Cloudflare and other upstarts have been taking market share from Akamai, but are still much much smaller.
Revenue Growth by Company
With the market for cloud products worth between $16 and $35 billion according to Akamai and Fastly, there's room for all competitors to grow together without having to fight over market share.
Competitor Metrics
| | | | | | |
| --- | --- | --- | --- | --- | --- |
| Company | Ent. Cust. > $100k | Gross Margin | Rev Growth | Rev (mm) | 2019 P/S |
| Akamai * | 5,110 | 65% | 5% | 2,860 | 5x |
| Zscaler | 2,800 | 80% | 61% | 400 | 15x |
| Okta | 1,038 | 77% | 31% | 371 | 23x |
| Cloudflare ** | 503 | 78% | 43% | 258 | 16x |
| Fastly | 227 | 55% | 54% | 193 | 14x |
Strong Customer Trends
Cloudflare's most unique strategy was the decision to offer a free service tier.
Unlike peers who only offer free trials, any website or user can try out Cloudflare for free.
This is an aggressive strategy that other tech companies like Slack have used with much success.
The free tier allows Cloudflare to reach more users than if they had to convince every customer to pay first.
Cloudflare now has two million customers, but only 5% currently pay, a huge opportunity for conversion.
Paying Customers a Small but Growing Percentage of Total Customers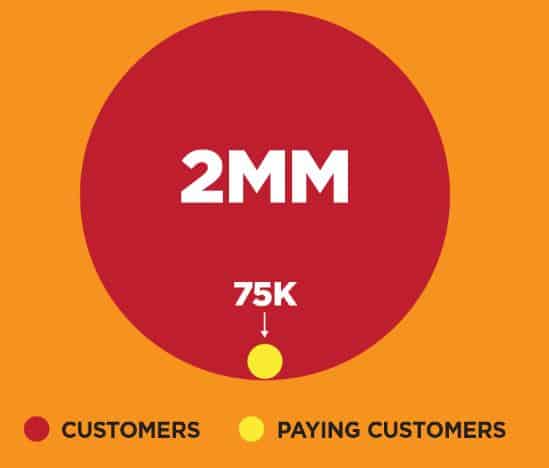 Another benefit of all these free users is the data they provide for new product development.
Cloudflare uses machine learning to improve its products based on the habits of its 2 million users.
The company is also constantly improving security features as it has a front-row seat to all types of hacking attacks due to the large user base.
Providing a service for free is a cost, but Cloudflare has been improving the efficiency of the free product which means the free tier will cost less to administer in the future, benefitting margins.
Successfully Bringing Down the Cost of Free Services
The insights and learnings gained from all these customers is well worth the cost of providing a basic free service and sets Cloudflare apart from peers.

Looking at new customers broken out by the year they originally signed up we can see the company is doing a great job convincing customers to add more and more service offerings.
On average Cloudflare has been growing revenue from current customers by 9% a year on top of the 30% revenue growth coming from new customers joining the platform.
Sales Per Customer by Year of Signup
Cloudflare is also adding large customers at a faster pace than the general customer base. Large customers who pay over $100,000 a year grew by 60% in 2018, compared to 30% growth for customers as a whole.
Adding enterprise customers will be key to keeping customer turnover low which will maximize revenue stability.
The Baidu Contract Explained
We think there is a real risk that when the contract ends in 2020 it will not be renewed and the company will lose any revenue coming from China.
One unique revenue stream investors should be aware of is a deal Cloudflare signed with Baidu as a way to gain access to China's internet.
In 2014 Cloudflare agreed to hand over all of its intellectual property in exchange for access to Baidu's China-based web servers.
Cloudflare was willing to give up its intellectual property because it believes the value of the company lies in the network not in any individual line of code. We agree.
This deal allowed Cloudflare to do business with web properties located within China while having a partner handle all the complexities that come with operating in a country largely run by the government.
Baidu owns the servers and handles all the traffic sent across the border by Cloudflare.
By 2017 China was generating 11%, or $14 million of Cloudflare's revenue.
Recently however the trade war between China and the U.S. is taking a toll with Chinese revenues down 10%-15% since 2017.
We think there is a real risk that when the contract ends in 2020 it will not be renewed and the company will lose any revenue coming from China.
Losing China would only be a negligible short-term hit, slowing revenue growth by about 5% in that year, not a big deal for a company growing at more than 30%.
The Baidu deal is a rare dark cloud in what is otherwise a sunny story.
Share Structure and Liquidity
Cloudflare is looking to issue 40.3 million shares in the IPO at a price of $14/sh, raising $564 million.
The remaining 88% of shares in the capital structure have a weighted average cost basis of $2.12/sh.
Early investors will be sitting on a 6.5x return on the first day of trading. A full 33% of post IPO shares will have a cost basis of only $0.20 or a 70x return.
All non-IPO shares will be locked until the 181st day after the filing of their first prospectus which would fall on Feb. 12, 2020. Under certain circumstances, the shares could unlock 121 days after the prospectus was filed which would fall on Dec. 14, 2019.
History of Capital Raises
The company's liquidity will be excellent after the IPO with 9 years of cash left at the current spending rate.
This will be more than enough cash — we expect Cloudflare will break even in 2023, four years from now.
Management Is Taking All the Potential Upside for Themselves
The goal for any management team when pricing an IPO is to leave as little value on the table as possible while still offering enough upside so investors have a reason to support the stock while early employees look to cash out.
If management priced the IPO right, they will have raised the most cash possible, good for the company, but the stock will trade flat until results begin to either miss or exceed forward-looking expectations, bad for investors.
The IPO process is a push-pull between investors who want a bargain and companies who want cash.
Lyft was an example of an IPO gone wrong for investors but right for the company.
Exuberant demand for the company's stock caused management to price the shares far above where they should have traded fundamentally, a boon to the company's cash balance.
However, once investor enthusiasm wore off and reality set in, the stock began to fall unchecked, burning early investors and leaving employees to cash out at lower prices than where they potentially could have if pricing was more reasonable.
CloudFlare's competitor ZScaler is an example of an IPO done right for investors.
ZScaler priced the IPO at a discounted multiple to internet security peers and the stock popped 106% on the opening day of trading as it caught up to peer valuations.
Management did not raise as much cash per share as they could have, but investors loved the stock and bid it up another 140% as results met expectations and the whole sector did well.
Cloudflare's proposed IPO pricing of $14/sh is setting investors up for a disappointing outcome. $14.00 would make Cloudflare the most expensive cloud services provider in its peer group. $14.00 is also 8% above our fundamental value of $13.00 per share, leaving the stock with no fundamental support.
Our value of $13.00/share gives the company credit for 17% annual revenue growth for the next 10 years (below the 23% historical growth of industry leader Akamai), 33% operating margins and has them reaching 330,000 paying customers from only 72,000 today.
A value of $14.00/sh implies a very low 3% cost of capital. Our fundamental value would only hit $14 if the company ends up needing to reinvest less cash into new servers and equipment than everyone else in the industry, a very tall order.
Good results are already priced in.
To their credit, management is trying to squeeze every penny they can out of a public listing for the benefit of current investors, but there will be very little left over for the rest of us.
Sell Cloudflare Above $20, Buy Hand Over Fist Below $7.00
The Cloudflare IPO could go either way tomorrow considering management is pricing the stock at a premium to the peer group.
As market and stock sentiment changes, stocks waver between cheap and expensive all the time.
Because of this volatility, we recommend looking at stock prices through the lens of a buy and sell point, not just one fundamental value.
In the case of Cloudflare, we have defined potential buy and sell point based on the most expensive and cheapest multiple in the cloud services industry.
Cloudflare could go either way tomorrow. On the one hand, it's a great company, but on the other, management is pricing the stock at a multiple above the peer group, leaving little reason to bid up the stock.
If the stock has a strong open and approaches $20, or 25x price to sales, it will be trading very rich and should be sold.
Historically cloud stocks that approach 20x-25x price to sales don't stay there for long, just look at competitor  ZScaler.
Any small earnings or revenue miss can have huge consequences for the stock.
Zscaler Price to Sales Multiple Down from 25x to 15x in 30 days.
On the flip side, if the stock approaches $7.00/sh, a very reasonable price to sales multiple of 8x, investor's should be buying with confidence.
Cloudflare is an excellent company, with an industry-leading footprint and a product offering that is second to none.
The problem with the stock is that investors already agree and are bidding the stock up to a level where management must beat expectations just to stay flat.
Very few investors make money buying stocks that are priced for perfection, and this time will be no different.
Avoid the IPO, but if the stock should fall towards $7.00/sh you can buy into a quality company for a cheap price.
This is most definitely a stock to keep on your radar for the long term.
Major Risks to Consider
Because Cloudflare obscures or hides a user's IP address, certain bad actors utilize the service to evade law enforcement.
The largest tail risk facing the company is reputational and legal damage from the services they provide.
Cloudflare lets users browse the internet incognito. Because Cloudflare obscures or hides a user's IP address, certain bad actors utilize the service to evade law enforcement.
Entities designated by the U.S. as terrorist groups or drug smugglers have in the past used Cloudflare in an effort to evade surveillance.
Cloudflare prides itself on letting any organization who pays their monthly bill use the service and this creates a risk that they are fined for the actions of others who use the platform.
Technically, if a terrorist group runs a website through Cloudflare, illegal content could potentially be stored directly on servers owned by Cloudflare which could lead to government fines or worse.
The opinions provided in this article are those of the author and do not constitute investment advice. Readers should assume that the author and/or employees of Grizzle hold positions in the company or companies mentioned in the article. For more information, please see our Content Disclaimer.