Charlotte's Web Holdings (TSE:CWEB, OTC:CWBHF) has posted their Q4 earnings report today and the results made it clear we are no longer living in the rosy CBD market of 2018.
Revenue came in at $22.8 million, missing analysts' estimates of $26.81 million by a good 15%.
Adjusted EBITDA was a loss of -$10.2 million which was also much worse than the -$0.035 million loss analysts were expecting.
The majority of the stock's decline can be explained by an explosion in competition and a dramatic fall in the price of wholesale and retail CBD prices across America.
The stock skyrocketed today with the larger market rebound meaning the company's woes may be adequately priced in by the market around $5.00/sh.
Overall, the stock has been hammered in the past year, falling from a high of around C$29.00 per share to C$4.24 last Wednesday.
Part of this dramatic decline is due to global macroeconomic issues relating to the coronavirus.
But the majority of the stock's decline can be explained by an explosion in competition and a dramatic fall in the price of wholesale and retail CBD prices across America.
The Metrics are Moving In the Wrong Direction
As stated earlier, analysts were expecting revenue of $26 million for Q4 but the company instead posted a relatively large miss, coming in at $22.8 million.
However, even before this quarter, when looking at the revenue growth rate chart, it is clear that growth has all but disappeared.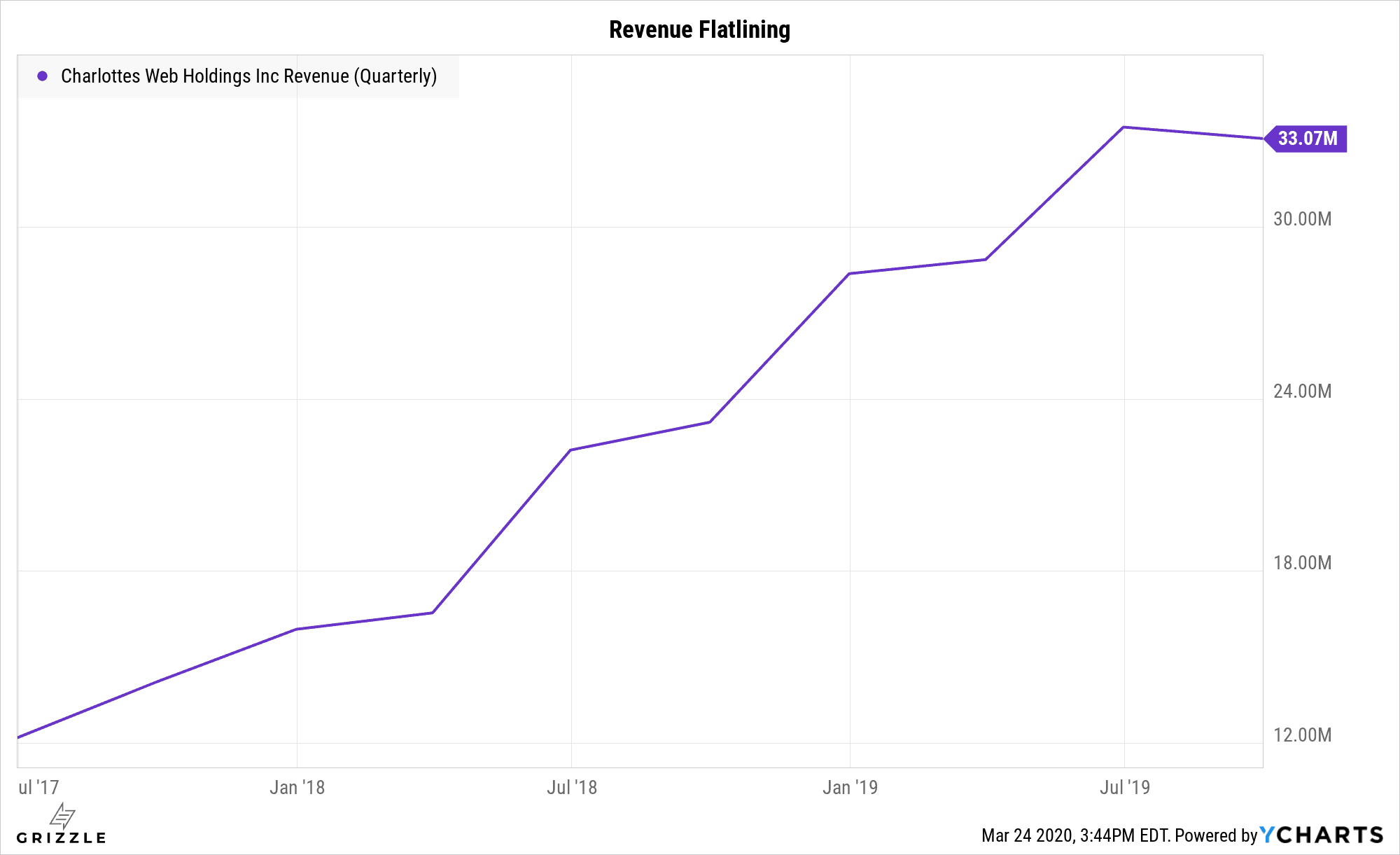 Demonstrating the challenges the entire CBD industry faces, Charlotte's Web posted revenue that fell 9% quarter over quarter.
Revenue has been flat for 15 months, truly an eternity in such a fast-moving market.
And keep in mind Charlotte's Web is the most well known and arguably highest quality CBD brand in the country.
Imagine how poorly things are going for the average CBD producer.
Revenue by Quarter

Taking a look at EBITDA, a proxy for cashflow, it is concerning to note that the EBITDA growth rate has turned highly negative.
Going all the way back to 2017 the company used to be profitable, but now with stagnating revenues but ramped up headcount and spending, EBITDA has turned deeply negative.
Analysts were expecting a similar EBITDA loss compared to last quarter, but instead, the company posted a loss of $10 million on only $23 million of revenue.
These poor results are mainly due to increasing competition in the Natural Health channel which saw sales decline 11% year-over-year and 21% quarter-over-quarter due to competitive crowding in Q4 2019.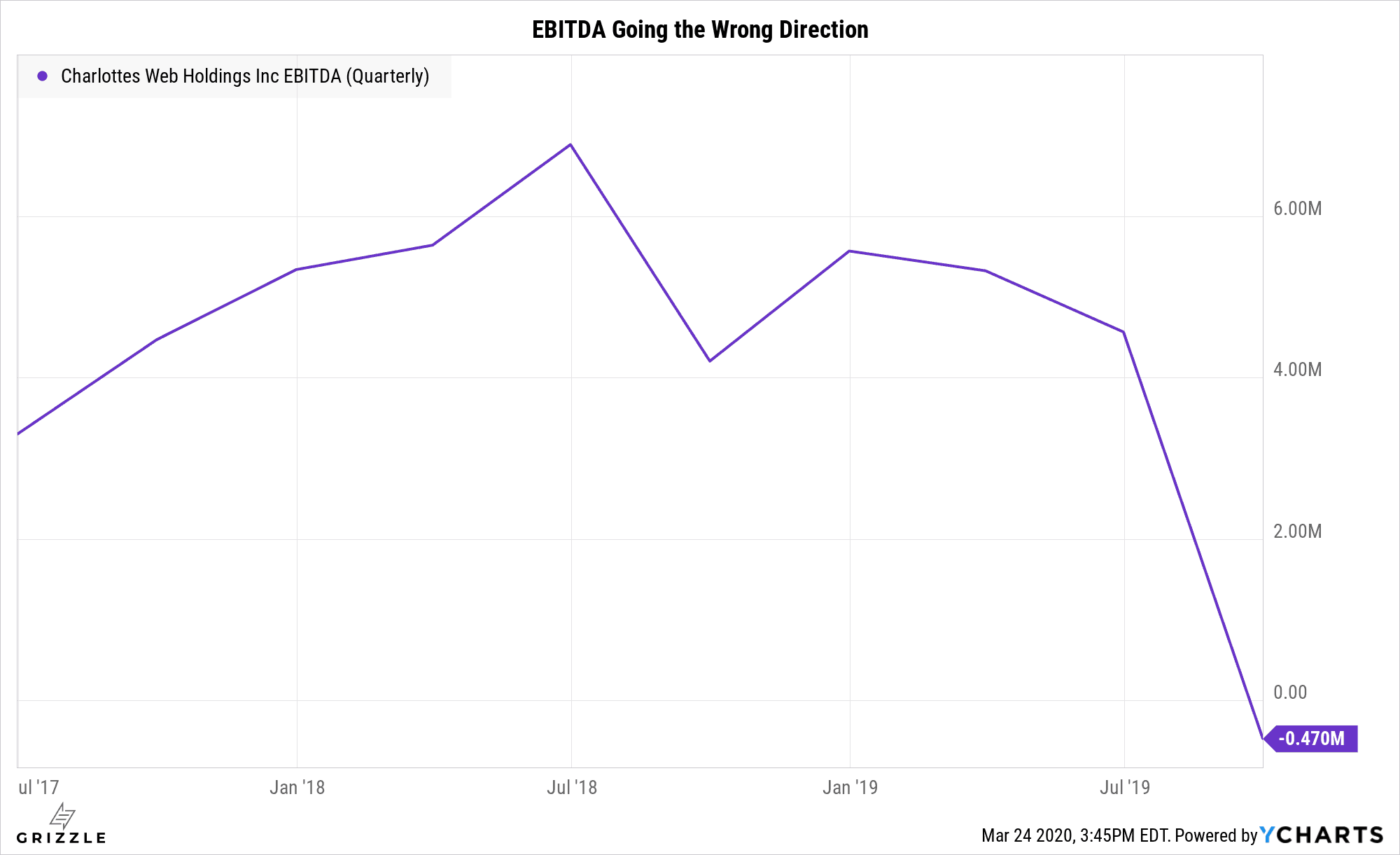 Charlotte's Web Refuses to Drop Prices
Taking a look at the prices for Charlotte's Web's products now versus March 2019, we see that Charlotte's Web's prices haven't changed at all even as industry pricing collapsed.
CBD Prices Down 60% in the Last 8 Months
This explains why revenue has flatlined.
Prices and volumes are closely related and if you are the highest priced product on the shelves but don't have serious brand recognition and consumer trust, consumers will go with someone else.
March 2019 vs March 2020 (Same Price)
The company has blamed this quarter's poor performance on "competitive crowding" and "low barriers to entry, partly due to lack of regulatory oversight", and dilution of market share due to thousands of brands that popped up in 2019.
Management doesn't seem to have a good strategy for how they are going to deal with the increased competition and falling prices.
Betting on competitors going out of business once CBD regulations are defined is not a real strategy.
There will always be competition and the quality of all the products in the market are only going to go up as the industry matures.
Management needs to set the company up to win in any environment, which they are not yet doing.
The CBD market is wildly oversupplied so prices are only going lower.
Management seemed to admit they need to drop prices in the earning release commenting "In April, Charlotte's Web will launch competitive new product formats into the channel leveraging its trusted brand name."
Bottom Line
In our experience, it's never a viable strategy to wait for the competition to go away.
It just never happens in a growing industry.
Charlotte's Web needs to focus on educating consumers about the health hazards of buying mislabeled and contaminated CBD from unknown brands and make sure their prices are competitive with the market realities.
Investors may be able to play a virus-driven rebound for now, but to make money longer term on this stock we need to see confirmation that revenue growth is back on track.
Look for at least a quarter of 20%+ revenue growth and shrinking EBITDA losses before going anywhere near this stock.
Relative to other multi-state growers and retailers in the U.S, Charlotte's Web is growing more slowly while being priced at a similar multiple of revenue.
This tells us the stock is not offering investors much value at this time.
The fledgling CBD market still has a lot to figure out.
Stock Rebound Not Supported by Fundamentals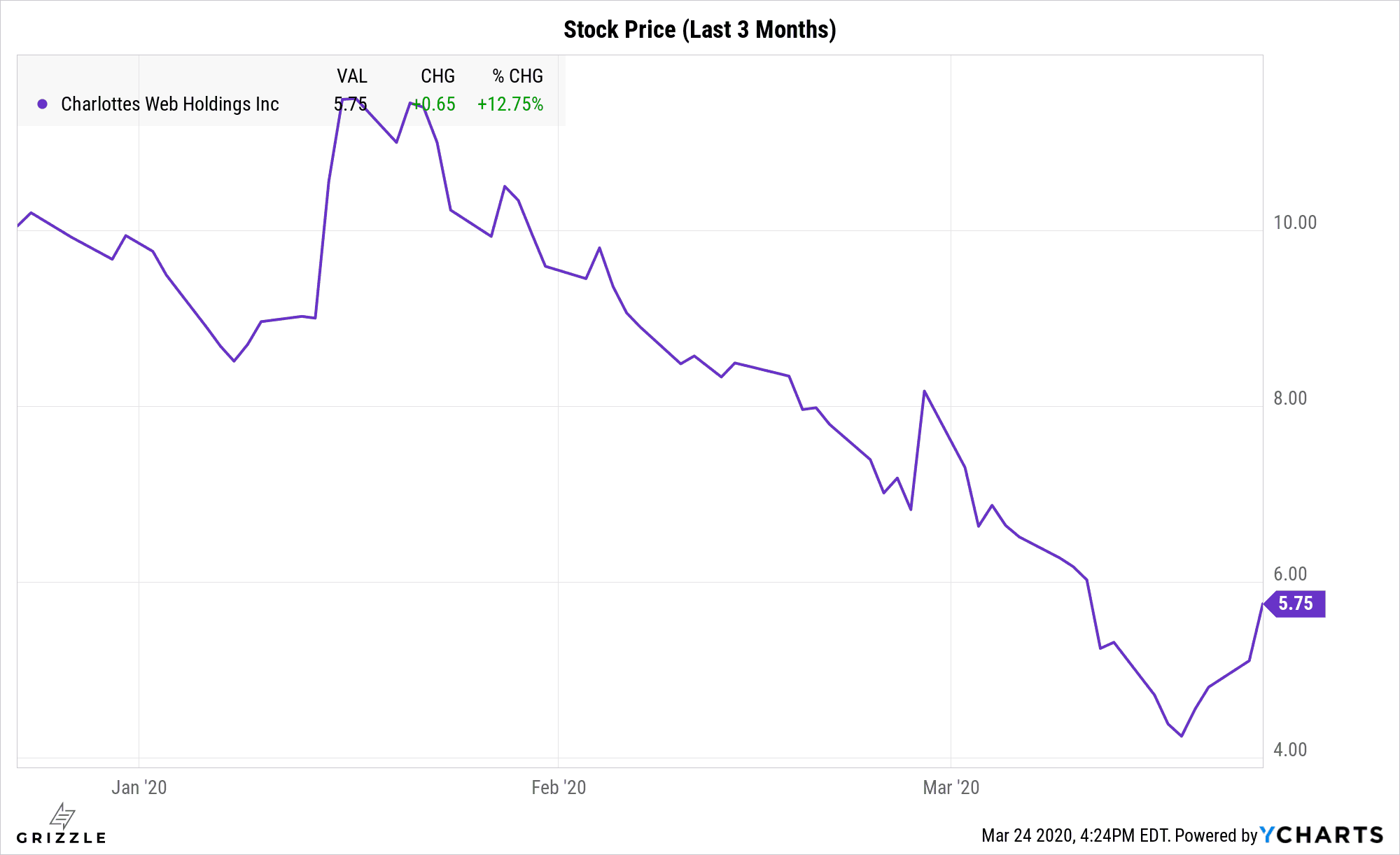 About Author
The opinions provided in this article are those of the author and do not constitute investment advice. Readers should assume that the author and/or employees of Grizzle hold positions in the company or companies mentioned in the article. For more information, please see our Content Disclaimer.