Bottom Line:
We aren't in a place to debate the allegations of whether an office exists or if a listed director is real. These are he-said she-said allegations at this point and we believe outside of the scope of the real issue facing Aphria investors.
The real question is whether regulators will find enough material to come down on Aphria. We think the answer is a strong no.
Aphria is a company with $314 million of cash in the bank and the third largest revenue generation of any cannabis operator in Canada.
The most serious allegation about fabricated directors is at worst an issue for Jamaican regulators and prior management of Marigold Acquisitions and is far outside the jurisdiction of U.S. or Canadian regulators.
The rest of the allegations are Hindenburg's attempt to portray the Latin American assets as worthless while ignoring the real value remaining in Canada.
What we can definitively say is Aphria stock is not worthless.
Aphria is a company with $314 million of cash in the bank and the third largest revenue generation of any cannabis operator in Canada.
Aphria will be harvesting 255,000 kg of cannabis and generating $300 million of revenue ($74 million EBITDA) a quarter by this time next year.
Even if we remove all international assets from the equation, Aphria is a C$20 stock based on the Canadian greenhouses alone.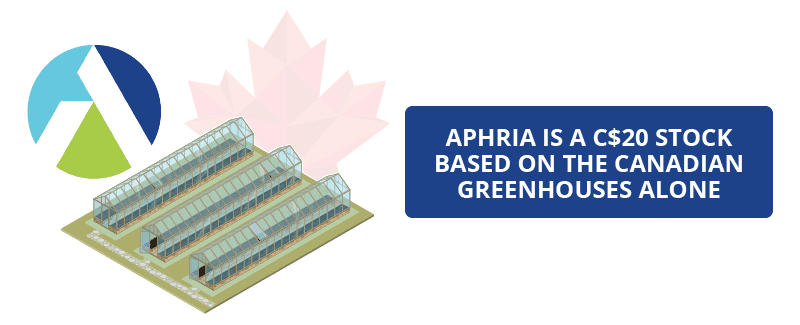 Investors erased C$780 million of market value yesterday and so far today, 3x the value of the entire Latin America deal. The market has effectively written off all of Aphria's assets outside of Canada.
In this morning's press release the company provided a comprehensive country-by-country asset listing for Latin America. Aphria effectively confirmed their view that these assets are operational and were worth the price they paid.
Aphria is in no way a $0 stock
Hindenburg Research and Quintessential allege Aphria is worthless, which is a blatant attempt to scare investors for maximum stock market impact.
In reality, take away all assets outside Canada and Aphria still has an extremely valuable business remaining.
Our comprehensive valuation report valued Aphria at $35 a share based on asset visibility to 2022.
Remove all cashflow from outside Canada and cut the multiple the market is willing to pay in half and the stock is still worth $20 per share. A majority of the present value was always going to come from Canada.
Only 10% of Revenue from Outside Canada
If Aphria Overpaid Everyone Overpaid
Hindenberg Research and Quintessential Capital are basically arguing Aphria overpaid, however, if we look at other LATAM deals from Canopy Growth and Aurora all the deals look similar.
Canopy paid C$197 million for assets in Colombia with C$73 million or 40% of the purchase price paid solely as a bonus payment to bring a key employee on board.
Aurora paid C$290 million for ICC Labs, a company with assets of only C$25 million and revenue of C$150,000 at the time of the deal announcement.
One could easily argue that all of these companies overpaid for their respective deals based on the value of tangible assets alone.
| | | | |
| --- | --- | --- | --- |
| Company | Price Paid (C$mm) | Asset Value (C$mm) | Revenue (C$mm) |
| Aphria | 194 | * | * |
| Canopy Growth | 197 | $5 | $0 |
| Aurora | 290 | $25 | $0.2 |
The companies obviously see it differently and believed there was an inherent intangible value from being one of the first entrants and license holders in each jurisdiction.
Though the passage of time showed that these licenses were less valuable than expected, with the information they had at the time, all cannabis management teams made the same decision.
Quintessential Capital Management – An "Unparalleled" Track Record of Convenience
Quintessential Capital Management has chosen to piggyback on Hindenburg's Aphria short report for maximum theatrical flair.
At the front of the report Hindenburg identifies their co-author QCM as having an unparalleled track record of exposing malfeasance, highlighting all their short "wins" in a graphic along with rudimentary statistical analysis of how much "winning" they've had, as we highlight in detail below this is at best a track-record of convenience and omission.
We can confirm QCM's research contributed to the downfall of Folli Follie and Globo, companies with market capitalizations of $1 billion and $200 million respectively. They also highlight that they reduced the market value of Ability (Ticker: ABIL) and American Addiction Centers (Ticker: ACC) by -92% and -95%, respectively, following the release of their investment case. We couldn't find the investment case for either company on their website, as it only lists Aphria and Folli Follie.
With respect to ACC we found the research report on Gabriel Grego's (Managing Partner of QCM) Seeking Alpha, where he explicitly acknowledges the short thesis was originally put forth by Bleecker Street Research, therefore this short -95% 'win' simply can't be attributed to QCM at all.
We were unable to find QCM's short thesis for Ability anywhere online and QCM hasn't tweeted about it in their timeline history either, therefore we cannot verify this short -92% 'win' and if they have even written a public investment case to support their claim.
QCM also claims they've reduced the market capitalization of a 'secret' company by -68%, we simply can't take that for face value and it's a curiosity why the company would even bother touting it as a 'win'.
What QCM fails to identify within their track record are their failed longs.
Grego published 'IBM: An Island of Value in a Sea of Overpriced Stocks' on March 11th, 2014, that call has underperformed the NASDAQ 100 (Ticker: QQQ) by a rather astounding -124% since.
Teva Pharmaceutical Industries is another long thesis that QCM conveniently omits from their track record.
Grego published 'Teva: Copaxone and Management Uncertainty May Be Hiding One of The Last Bargains Around' on October 31, 2012; that call has underperformed the SPDR S&P Pharmaceuticals Index (Ticker: XPH) by -101% since.
Who is Hindenburg?
Hindenburg Research authored the report 'Aphria: A Shell Game with a Cannabis Business on the Side' that sent Aphria share's plummeting -28% yesterday.
There is very little information about the research team at Hindenburg other than about the founder Nate Anderson who specializes in forensic research.
His LinkedIn doesn't identify his role at Hindenburg Research but rather as CEO of ClaritySpring Inc – a technology company that provides investors with 'institutional-quality insight & access to today's top hedge fund strategies'.
Needless to say, there is very little in his entire employment history to suggest he has ever built an expertise in forensic research of publicly traded companies.
Hindenburg has published short reports on 13 companies over a one-year period with varying levels of share price impact (primarily no impact), none of the reports that have claimed to expose corporate malfeasance or fraud have yet to result in legal action.
We'd view their track record akin with other flamboyant short sellers – always yelling about smoke but never actually finding a fire.
The Aphria short report itself is heavy on unverified claims and pictures that seek to deliver maximum 'shock and awe' share price impact for the short investors.
When Grego presented the report at the Kase Learning Short Conference, he was adamant that the share price for Aphria would be worth $0, but was unable to answer basic questions related to the tangible value of the assets in Canada, cash burn rate or cash on the balance sheet — it's clear very little due diligence was actually done on the company's basic financials.
Short Report is a Master Class in Cherry Picking Numbers
We've analyzed a number of salacious short reports that claim outright fraud in the past.
The vast majority result in no legal action as the claims cannot be verified and are based on innuendo, not facts.
Reading through the Hindenburg report we found numerous examples of numbers being cherry-picked for maximum effect with many being downright wrong.
The LATAM deal value is listed at $280 million, incorrectly using the price of Aphria shares on the date the deal closed. The true value of the deal was $194 million using the correct share price on the date the deal was announced, a 30% difference.
The short report splits up the consideration paid among countries in a way that maximizes the impact of the report. Jamaica, a country with only 3 million people is valued 70% higher than Colombia and 200% higher than Argentina, countries with ~50 million people.
Aphria Conducted Comprehensive Due Diligence Including Site Visits
Scythian's financial filing of how the LATAM deal came to pass gives us some insight into the substantial due diligence that took place before the deal was announced.
Top Aphria management completed site inspections in Jamaica, Colombia, and Argentina, conducted weeks of negotiations and received third-party fairness opinions on the valuation of the deal.
Later that month, Vic Neufeld and Cole Cacciavillani of Aphria, George Scorsis and Gabriel Meneses of Scythian and Alejandro Urdaneta, local partner / shareholder of Colcanna, travelled to Colombia to meet with the Colcanna management team and engage in a site visit. 
Scythian's financial filing
On July 10, 2018, Mr. Merton and Mr. Jakob Ripshtein from Aphria travelled to Jamaica to further review the current operations of Marigold. 
Scythian's financial filing
On one hand, you have detailed due diligence filings while on the other hand, you have unverified pictures of street signs and dwellings.
The specific asset and personnel allegations are a game of he said/she said, but what we do know is all of the companies involved conducted detailed due diligence including third-party fairness opinions on the assets involved, giving them adequate legal cover.
Aphria thought these assets were worth what they paid at the time and went through all the necessary legal channels to ensure the deal was negotiated at arm's length. No smoking gun here.
Marijuana Quality Allegations are Suspect
The allegations that Aphria's marijuana is unsafe or lower quality than peers lack any credible proof.
If Aphria really had issues with its finished product, we should have seen issues pop up with the regulator Health Canada including product recalls and/or non-voluntary crop failure.
Aphria is required to test all material harvested from the facilities for mould, pests, and banned pesticides.
Seeing as the company has a clean record from regulators and has not disclosed any growing issues, this allegation looks like filler for the report.
Insiders Buying
At the same time the stock was down 30% intraday insiders were loading up on stock.
Vic Neufeld and co-founders and board members Cole Cacciavillani and John Cervini purchased $3.1 million of stock combined.
While we believe the original press release was disappointingly light on details, clearly management is speaking with their wallets which we believe is a powerful contra-indicator for the validity of these accusations.
Conclusion
The allegations around foreclosed buildings and fabricated directors are concerning, but at the end of the day, they reflect more on the prior owner of the LATAM assets than on Aphria as a going concern today.
Aphria did their due diligence on all the assets in this deal and decided they were worth C$194 million, a value in line with what other large producers paid for their own LATAM assets.
So what are investors left with?
A management team that has a long road to earn back investors trust and a Canadian business worth double where the stock is trading today.
Once regulators fail to appear and the company begins generating millions of cashflow in 2019, we think investors will look back at December 2018 as a rare buying opportunity.
In the interest of full disclosure, employees of Grizzle personally purchased and currently own stock in Aphria, Inc. See the Content Disclosure section here on our Terms and Conditions page for more details.
The opinions provided in this article are those of the author and do not constitute investment advice. Readers should assume that the author and/or employees of Grizzle hold positions in the company or companies mentioned in the article. For more information, please see our Content Disclaimer.