Digital Fitness Provider Peloton (NYSE:PTON) reported earnings for the quarter ending December 2019 that beat expectations while raising guidance for the fiscal year 2020 by 4%.
However, the gross margin decline and revenue guidance that missed estimates for next quarter have likely spooked the market with the stock down 10% after hours.
Revenue came in at $466 million, a beat to consensus of $424 million and management guidance of $415 million.
Revenue growth of 77% was down from last quarter's growth of 104%.
The EPS loss of -$0.20 beat consensus by 35%. Analysts were looking for a loss of -$0.31.
Profitability continues to head in the wrong direction with an EBITDA loss of $28.4 million this quarter compared to $21 million last quarter, though this loss was better than the $68 million loss consensus was expecting. 
Management is spending heavily on marketing which is driving sales but also increasing bottom-line losses.
This quarter and the next are the two best quarters with Christmas gifting and New Years' resolutions.
Peloton now has 712,000 connected subscribers, beating our estimate by 25% though digital subscribers were basically flat even with 35% cut to the price of the digital offering.
Results have peaked and will only worsen as we move through 2020, pulling the stock well below its $29 IPO price in our opiniono.
With 83% of shares set to come off selling restriction on March 24th and insider's sitting on 600% gains, we expect the stock will come under selling pressure over the next two months.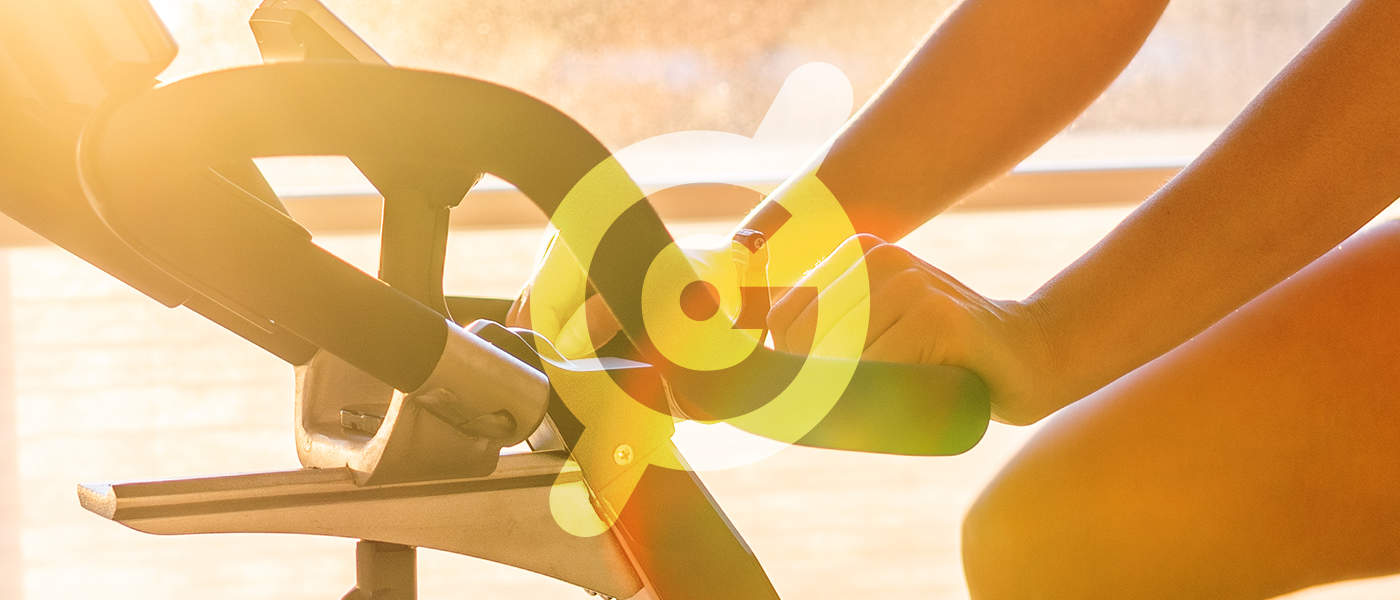 All the Problems with Peloton
Peloton is an excellent product don't get us wrong, the problem lies with the stock.
The stock market is pricing Peloton like it takes over the entire North American fitness market replacing most of the gym equipment in homes, hotels and even at the gym itself.
This stock is priced as if a trip to the gym is about to become obsolete.
Stock Price Implies 10x Increase in Subscribers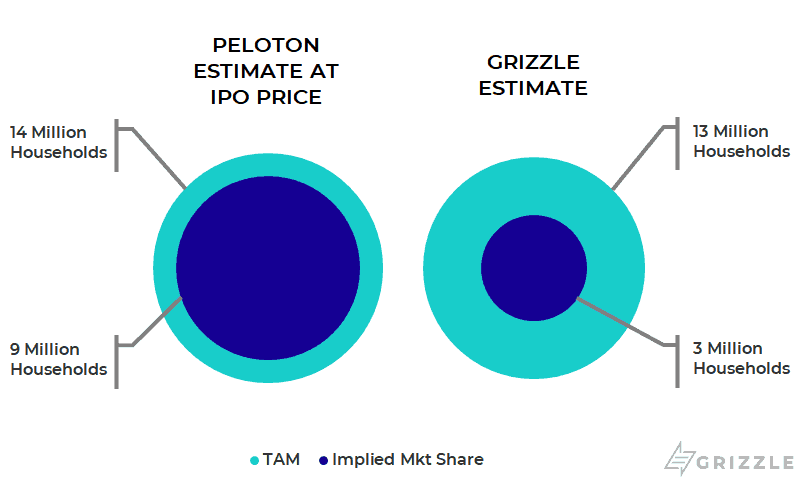 Peloton Priced Like a Major Streaming Platform
As a mature (i.e. no growth) streaming company, Peloton would have to maintain a user base of 55 million subscribers paying $12.99 a month to justify the current $11.5 billion ($33.00/sh) valuation.
| | |
| --- | --- |
| Subscribers Needed to Justify an $11.5 Bn Valuation | |
| Current Market Cap (mm) | ~11,500 |
| Mature P/E Multiple | 16x |
| Implied Net Income (mm) | $714 |
| Net Income Margin | 8% |
| Implied Revenue (mm) | $5,980 |
| Streaming Cost/Month | $12.99 |
| Total Subscribers (mm) | 55 |
55 million people would represent 91% of gym memberships in America and 83% of the total addressable market according to the company's own materials.
55 million would make Peloton larger than Disney+ at 29 million and half as large as Amazon video at 100 million, both highly unlikely.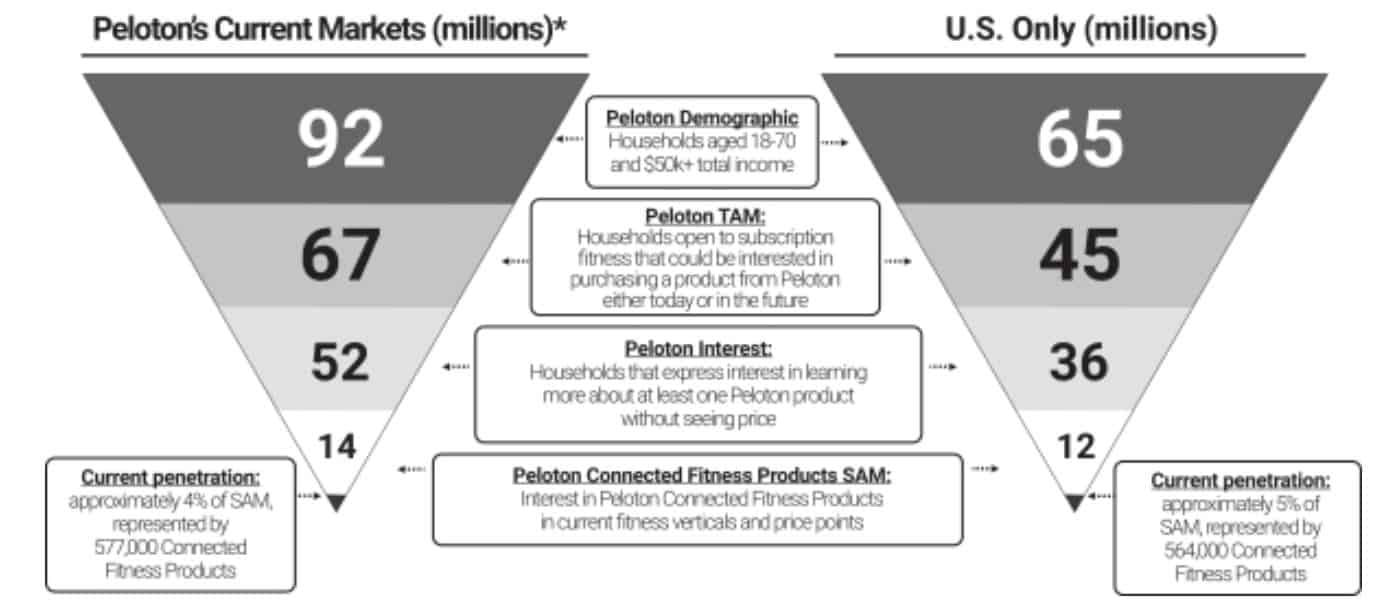 The Quit Rate is Headed Higher and So Are Customer Acquisition Costs
We estimate Peloton has a quit rate of 22%, less than half the industry average. A reversion to the average is ongoing and inevitable.
Acquisition costs are also increasing, growth is slowing and the stock market multiple will fall from 7.7x today to somewhere closer to 2.5x, in line with global fitness peers like TechnoGym.
At that point, investors will be looking at a $6 stock, not a $33 stock, and they won't be happy.
Peloton Price to Sale Multiple Way Above Peers
| | | |
| --- | --- | --- |
| Company | P/S | Rev Growth |
| Peloton | 7.7x | 60% |
| Technogym | 2.8x | 13% |
| Nautilus | .1x | 0% |
Our quit rate is higher than what Peloton reports to the market because they count the number of people who quit as a % of this quarter's subscribers not the subscribers from the period when the users who quit originally signed up.
Say for example you joined Peloton in December with 100 others and quit a year later. Over those 12 months 1,000 more people signed up for Peloton.
By the time you quit Peloton reports you as 1 person who quit out of 1,000 subscribers even though you are 1 of 100 original people to join.
This way of counting understates the quit rate by 90% (1% quit rate vs .1%).
We think the real quit rate is somewhere closer to 22% and rising, much higher than the 11% reported by the company.
This quarter the quit rate decreased to 0.74% from 0.90% last quarter but up from 0.52% at the same time last year.
When Peloton adds a ton of subscribers the churn rate goes down based on the way Peloton calculates it.
The churn rate will continue to march higher.
Peloton Quit Rate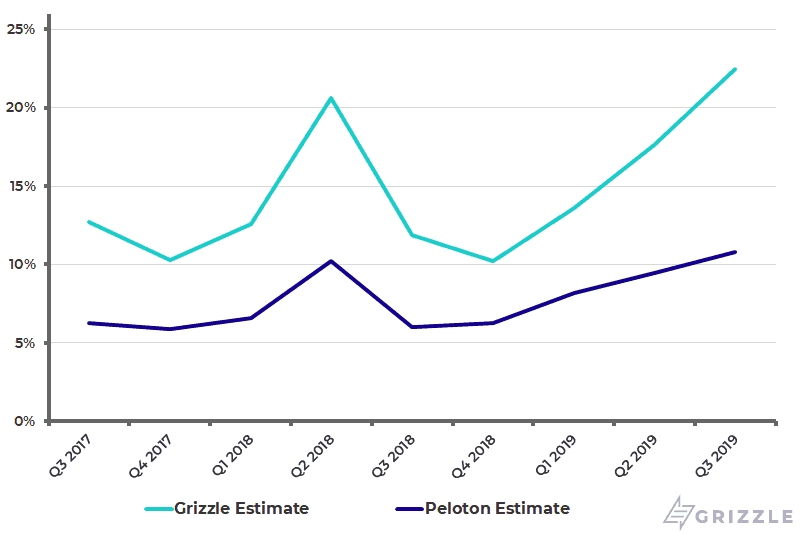 What to Do With the Stock
Peloton investors now have to contend with a share unlock coming on March 24th, 2020.
The cost basis of insiders is only $4.51 as a whole with 25% of shares with a $0.45 cost basis. We think it's likely some insiders want to lock in these huge gains once the lockup expires, putting additional downward pressure on the stock.
History of Funding Rounds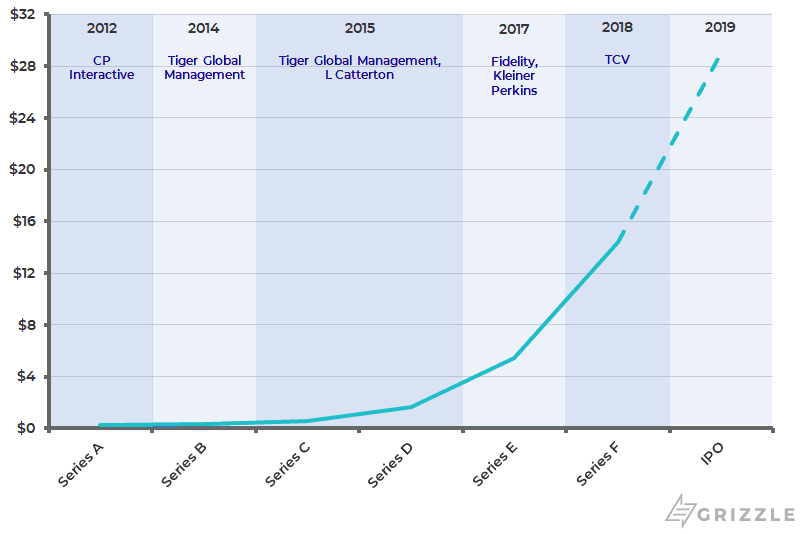 The share unlock will provide an opportunity to put on a cheap bet against a stock whose fundamentals currently look as good as they will ever get in our view.
Investors who can't bet against this stock should continue to steer clear, while those who want to go short will have the share unlock and weakening fundamentals on their side.
Full Disclosure: The author sold shares of PTON short after conducting extensive due diligence on the stock.
About Author
The opinions provided in this article are those of the author and do not constitute investment advice. Readers should assume that the author and/or employees of Grizzle hold positions in the company or companies mentioned in the article. For more information, please see our Content Disclaimer.