Best Buy (NYSE:BBY) posted their results for Q4 2020. Revenue was $15.19 billion which beat analysts' estimates of $15.05 billion. EPS came in at $2.90 which beat analysts' estimates of $2.76.
Best Buy has been one of the only shining stars of the traditional brick-and-mortar retail store chains. It has performed well for shareholders at a time when many traditional retail chains are getting hammered. The stock is over 20% higher now than it was around this time last year.
Best Buy Makes Traditional Retail Seem Cool Again
Despite increasing pressures from online ecommerce sites such as Amazon, Best Buy has so far been able to shrug off the threat. Consumers seem to still prefer to buy large-ticket items in a traditional retail store rather than online. Intuitively this makes sense, as studies have shown that people are willing to pay more for a product that they can see and touch.
This means that the items that Best Buy sells, like TVs and other expensive electronics, remain popular with the consumer as people typically want to see it in person before committing to buy it. This is why Amazon and other tech companies are actively looking into the potential for virtual reality (VR) technology to help replicate this experience. Until VR becomes mainstream though, Best Buy has the clear advantage as being the one-stop shop for all of the consumer's tech needs.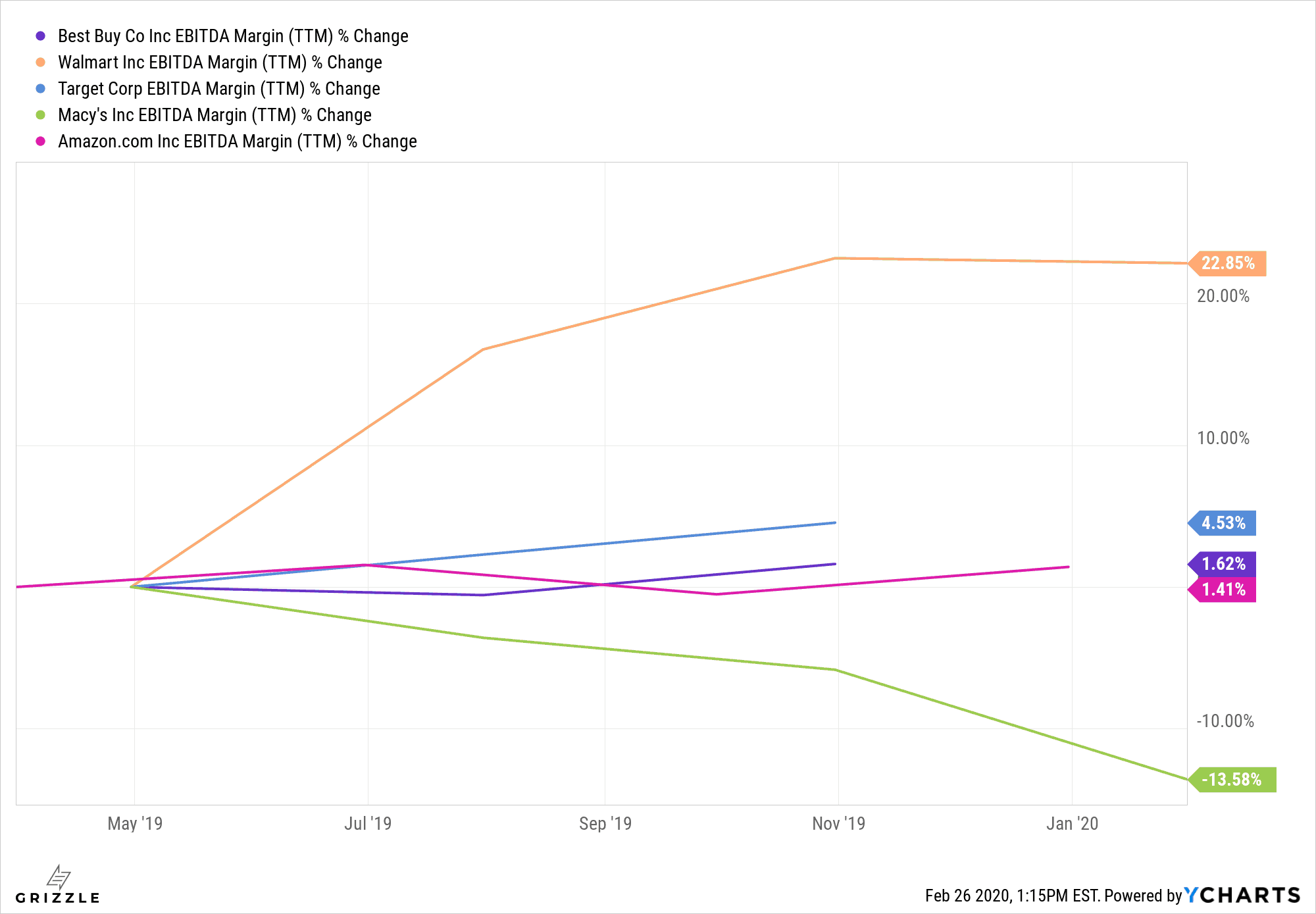 Best Buy is still able to post a noticeable increase (albeit small) in EBITDA margin in times where traditional retail chains like Macy's are getting battered in this department. Although the increase in EBITDA margin has not been as great as Target (another shining star of the retail world), Best Buy is also valued much more reasonably at a forward P/E of just over 13.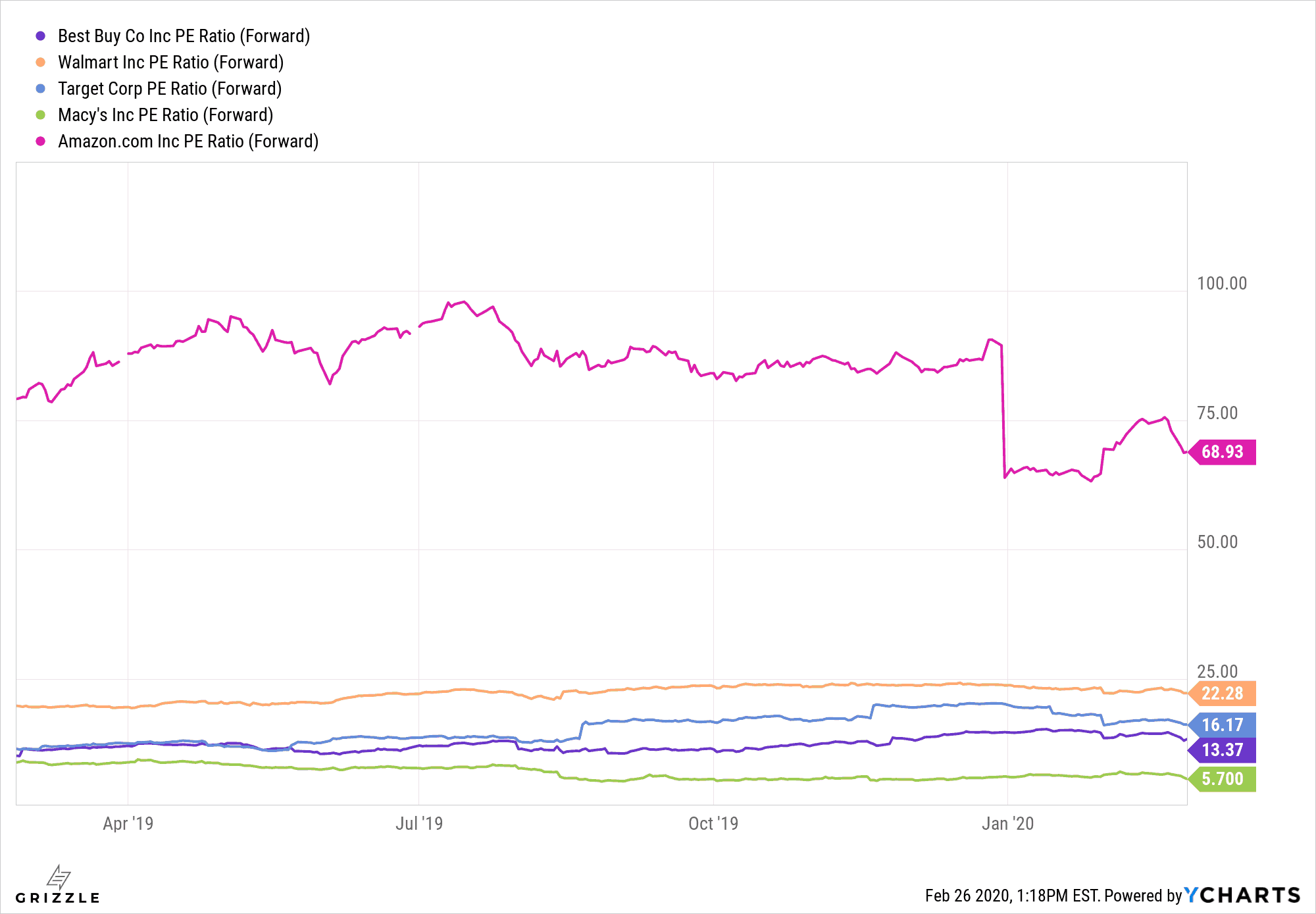 Many of Best Buy's suppliers are based in China and the ongoing trade war and the COVID-19 outbreak continues to put pressure on the stock in the short term.
How to proceed next is dependent on one's opinion on where the company is headed in the long term. From a valuation standpoint, Best Buy seems like it may be a good bet. The company has also consistently beat earnings estimates for all the previous quarters in the past year.
However we must also keep in mind some macroeconomic concerns. Many of Best Buy's suppliers are based in China and the ongoing trade war and the COVID-19 outbreak continues to put pressure on the stock in the short term. In the long term, if a recession occurs, retailers that sell more expensive and non-needs based items like Best Buy will be hit harder than retailers that sell consumer staples.
Also, if one is inclined to believe that a shift in technology such as the prevalence of VR will dramatically shift consumer spending habits, then it may be best to look at tech stocks and those that threaten to disrupt Best Buy. If one believes that consumer habits are unlikely to change anytime soon, then Best Buy can potentially be a great addition to one's portfolio.
The opinions provided in this article are those of the author and do not constitute investment advice. Readers should assume that the author and/or employees of Grizzle hold positions in the company or companies mentioned in the article. For more information, please see our Content Disclaimer.